National Assembly deputies on Tuesday met in groups on the second day of the NA's meetings to review the socio-economic development plan for 2007 and discuss the work ahead for 2008.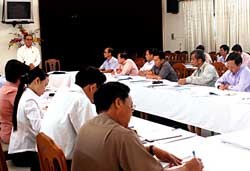 NA deputies discuss in groups

They agreed with Government's target of obtaining an 8.5-9 percent increase in gross domestic production (GDP) and a bump to US$960 in per capita GDP.

However, they underlined the need of competitiveness and sustainability in economic development.

The deputies also discussed the Government's solutions to speed up administrative reform and improve the investment environment, including building a better law framework for the real estate, monetary and capital markets.

Regarding the State budget, the deputies asked the Government to tighten the State budget management through the execution of the Tax Management Law which will take effect on July 1, 2008, and to mobilize social resources in order to remove the burden on the State.