At the National Assembly (NA)'s question-answer session yesterday, ministers answered some critical questions posed by deputies about health, power, banking, and education.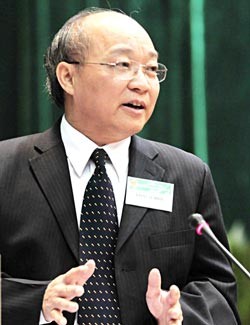 Health Minister Nguyen Quoc Trieu

Nguyen Thi Bach Mai from Tay Ninh province asked: "Have any imported vegetables or fruits been found to contain toxic substances? What has the Ministry of Health done to protect consumers?"
Health minister Nguyen Quoc Trieu replied, "The use of preservatives in farm produce is regulated by the Ministry of Agriculture and Rural Development, and the product quality by the Ministry of Industry and Trade."
But he admitted that food quality and safety have yet to be fully ensured in the country.
Another issue that came up was the disposal of toxic medical waste by hospitals around the country.
Mr. Trieu said 40 percent of medical waste is being destroyed in accordance with regulations, 33 percent burnt in simple incinerators, and the rest buried or destroyed in the open.
"The ministry needs VND1.2-1.4 trillion (US$71-82.8 million) for treating medical waste, and another VND800 billion for solid waste. We cannot raise such a huge amount in a short time."
His ministry manages just 35 hospitals while provincial and municipal authorities run around 1,000, he said. "Therefore, the treatment of medical waste also depends much on local governments."
Trinh Thi Nga from Phu Yen Province said: "There should be a clear roadmap for dealing with medical waste and the public wants to know when the problem will be resolved. It cannot be blamed on lack of funds."
Tien Giang Province deputy Pham Huu Chi said the Mekong Delta "is at a disadvantage in healthcare compared with other localities," citing the region has a very low ratio of medical workers. 
The minister promised to consider the issue and reply in writing to Chi.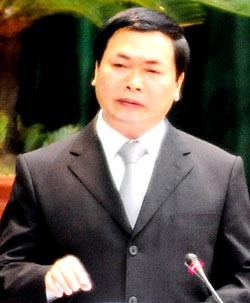 Industry and Trade Minister Vu Huy Hoang
Ensuring Sufficient PowerIndustry and Trade Minister Vu Huy Hoang faced several questions about the electricity supply.
Many deputies charged Electricity of Vietnam (EVN) with failing to supply adequate power for production and distribution activities. It has also refused to undertake 13 power projects claiming lack of resources while setting aside thousands of millions of dong for welfare funding (la gi?), they said.
Mr. Hoang admitted the refusal by EVN was irresponsible, but said the group indeed faced some financial difficulties as well as a shortage of coal supplies for its thermal power plants.
The government has decided to assign 11 of these projects to others while EVN will develop the remaining two, he said.  
The demand for power is expected to rise 13 percent next year, he said, promising his ministry would order EVN to ensure adequate supply.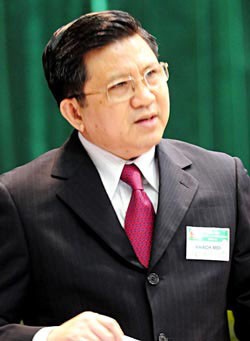 SBV Governor Nguyen Van Giau
Banks Continue to Lend

Nguyen Thi Nguyet Huong of Ha Noi asked, "What steps will banks take to ensure credit for businesses?"
The State Bank of Vietnam (SBV) governor Nguyen Van Giau said he sympathizes with the challenges faced by businesses, especially small-and medium-sized ones.
Commercial banks continue to lend to companies that meet their criteria, he pointed out.
Loans to private companies have risen by 37 percent this year and to poor households by 34 percent, he pointed out further.
The SBV has reduced the liquidity in the economy by VND35 trillion ($2.07 billion) as part of efforts to combat inflation.
Education Standards to be Tightened

Deputy Ho Quoc Dung from Binh Dinh Province  voiced concern about the mushrooming of universities and vocational schools that do not meet basic educational standards and lack teaching facilities.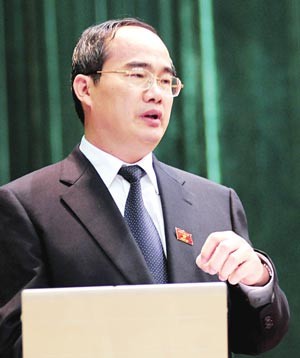 Education and Training Minister Nguyen Thien Nhan
Consequently, the quality of graduates is dropping, he lamented.
"What has the ministry done and will do to tackle this critical problem?" he asked.
Education and Training Minister Nguyen Thien Nhan admitted to the problem and said his ministry would issue tougher regulations to resolve it.
Assessments would be made of new schools for three years after their establishment, he said.
More stringent requirements would be put in place to open schools, he promised: For instance, full-time teachers must handle at least 60 percent of a school's training. 
His ministry would also publicize information about universities and colleges so that students can decide upon a suitable option, he said.
However, he said, expansion of the education system is an imperative for any society. He pointed out that Vietnam's ratio of students per 10,000 population is still just half of that in Japan, France, Thailand and some other countries.