The National Assembly discussed a range of concerns related to labour issues during a session that was broadcast live on television yesterday morning.
The discussions included issues such as salaries, overtime and maternity leave, which are all areas addressed in the draft amended Labour Code.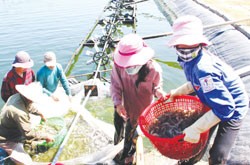 Workers harvest white-leg shrimps at the Hung Bien Sea Products Co Ltd in the central province of Quang Binh. The draft amended Labour Code, which was discussed by the NA yesterday, is expected to ensure workers' proper rights including salaries, overtime and maternity leave. — VNA
According to Truong Thi Mai, chairwoman of the NA Committee for Social Affairs, the draft code regulated that salary levels for labourers must be based on their labour productivity and work results and must not be lower than the minimum salary level set by the Government.
She said the State's role in regulating salary has been carried out via the minimum salary level, which ensures labourers can cover their living expenses. "This is one of the most effective methods to protect labourers' rights," she said.
The draft code regulates the formation of the National Salary Council, which would include representatives of employers, employees and State management agencies. The group of these people would be responsible for giving consultancy, appraisal and initiatives to the Government on minimum salary levels and national salary policies. The Government, basing decisions on the council's suggestions, real socio-economic situation and salary levels in the labour market, would make adjustments in the minimum salary level, said Mai.
Deputy Tran Ngoc Vinh from northern Hai Phong City said it was necessary to regulate the role of trade unions in building salary scale tables and observing the implementation of salary policies at enterprises.
Deputy Dang Ngoc Tung from southern Dong Nai Province said labour strikes resulted from payment disputes for labourers, so enterprises needed to consult their trade union before deciding on salary levels and then report these plans to the local department of labour, invalids and social affairs.
Regarding over-time and extra-work, most deputies agreed with the regulation that over-time was not allowed to exceed 200 hours per year, except for special cases with a maximum of 300 hours, instead of 360 hours as another option.
Truong Thi Mai from the Social Affairs Committee said, "this regulation was suitable for Vietnamese workers and still creates favourable conditions for them to get extra payments."
However, raising over-time limits was not in line with current trends in factory automation and which required improved efficiency among local workers.
Deputy Nguyen Thi Thanh Hoa from northern Bac Ninh Province said less over-time would ensure labourers have more time to relax, take care of their families and improve their knowledge and skills.
However, deputies expressed concerns over the feasibility of this regulation as there was a lack of specific punishment for violations.
Deputy Nguyen Minh Phuong from southern Can Tho City said many enterprises forced their staff to work as many as 800 over-time hours each year, a worrying trend relevant authorities had failed to address. She called for clear definitions of the responsibilities and mechanism of relevant agencies to manage this area.
In terms of policies for female labourers, the draft code regulates that the maternity leave period for all female employees would be lengthened to six months instead of the current four months.
Deputies agreed with this article, reasoning that female labourers would have more time to take care of their babies to ensure their comprehensive development, which plays an important role in improving the quality of the country's future labour force.
However, deputy Do Van Ve from Thai Binh Province said that it was necessary to supplement support policies for female labourers in the agricultural sector as these people missed out on maternity leave benefits, while female labourers at enterprises or agencies still got their salary paid by social insurance.
Deputies also agreed with articles on the retirement age which regulate the retirement age for men to be 60, and for women, 55. A supplementary article also states that labourers who work in hazardous working conditions or in border, mountainous and island areas can retire earlier than regulated.
In addition, workers in the field of scientific research and those who serve as top officials can continue working past retirement age for up to five additional years.
The draft amended code also includes specific regulations on settlement procedures for labour disputes, which deputies hope will help curb strikes at enterprises.
The draft amended Labour Code is expected to have 244 articles and 17 chapters.
Deposit Insurance Law
Yesterday afternoon, NA deputies also discussed the draft deposit insurance law. About 20 participants raised opinions about the draft, which has seven chapters and 39 articles.
The chapters involve general rules; the rights and responsibilities of deposit insurance (DI) beneficiaries; DI organisations, banks and financial institutions participating in DI; DI operations; information and reports; inspection and complaints; and articles on law execution.
Almost every deputy agreed with the draft's articles. However, there were differences of opinion on six issues.
The issues included the beneficiaries of deposit insurance (DI), models for DI organisation, activities and supervision functions of the institution, currency categories for DI, payment fees and limitations for payment.
Most deputies agreed that the organisation of DI should be left to the Government but managed by the State Bank of Viet Nam (SBV).
Under the draft, only individuals would be eligible for DI, yet many NA members said the scheme should be extended to organisations.
In addition, the draft merely permits DI in Vietnamese dong, whereas some deputies suggested it be applied to US dollar and gold.
Nguyen Thanh Hai, a representative from northern Hoa Binh Province, said: "DI should be applied to US dollar because it would encourage depositors to put money into banks and financial institutions, and would withdraw US dollar from circulation. This would partly ease dollarisation in the economy."
However, Dang Xuan Huy, from southern Dong Thap Province, said DI should not apply to gold as the SBV prohibited banks and financial institutions from depositing gold last November.
In terms of limitation on DI payment fees, Touneh Drong Minh Tham, from Central Highland Lam Dong Province, said: "The law should set a framework for payment fees from the minimum to maximum rates, rather that setting a fixed rate for all kinds of deposits. Payments should be based on the value of the deposits."
Le Minh Hien, from central Khanh Hoa Province, said the law should offer two kinds of fees – compulsory fees and optional fees to better satisfy depositor demand.
Rates for fee payments should not be enshrined in law but should change over time, lawmakers said. In some nations, rates ranged from US$100,000 to $200,000.
The draft stated that DI rates and other information should be published in the mass media. However, some deputies said depositors should also be informed otherwise they would not know about their rights and other benefits.
Phung Van Hung, from northern Cao Bang Province, said a higher power should be assigned to organise DI in order to protect depositors and prevent the collapse of the credit system.
Pham Huy Hung, from Ha Noi, added that the organisation should be audited annually