National Assembly (NA) Standing Committee members yesterday said that the Law on Access to Information was meant to enable people to exercise their rights and strengthen policy transparency.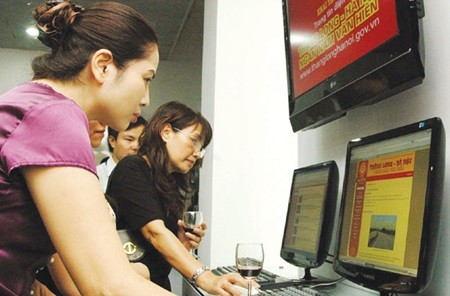 People access the internet. The demand for information is increasing, so regulations to make clear who has the right to information and who has to provide it should be enforced. (Photo: VNA/VNS)
Deputies said the demand for information was increasing, especially that relating to the implementation and protection of their rights and benefits.
This included information on land planning, traffic, construction, compensation and site clearance.
They said that the provision of information by State organs meet only a part of people's demand. In some cases, the State failed to provide accurate information leading to the appearance of incorrect information. This affected social stability.
To make the law feasible, deputies said it was necessary to make clear who had the right to information and who had to provide it.
Phung Quoc Hien, chairman of NA's Finance and Budget Committee, said the draft law only stipulated citizens had the right to access information and that the State acted as information provider.
Dao Trong Thi, chairman of the NA Committee for Culture, Education, Youth, and Children's Committee, said the draft law should expand the scope of information provided.
"Any information relating to people's interests and State activities should be provided, no mater who creates it, State or non-State organs," he said.
Deputies also proposed that the Government clarify which kinds of information were to be provided and which would be restricted or forbidden.
Several deputies voiced concern over Article 22 on fees for accessing information. They proposed that the fees should be detailed and the public told in which areas they applied.