The Science, Technology and Environment Committee of the National Assembly met with scientists and experts to listen to opinions and views on the safety of the Song Tranh 2 Hydropower Plant in the central province of Quang Nam on Saturday.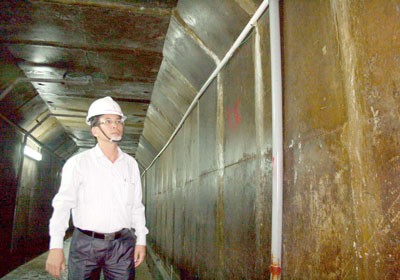 Contradictory opinions were given at the NA meet, on the safety of the Song Tranh 2 Hydropower Plant (Photo: SGGP)
Phan Xuan Dung, chairman of the committee, asked for specific clarification on the environment report related to the plant and if the ongoing measures to solve the leaks in the plant dam were sufficient or not.
He also wanted clarification on the impact of the recurring earthquakes on the safety of the plant dam.
Do Quang Vinh, from the Ministry of Industry and Trade, said the ministry had instructed Vietnam Electricity (EVN) to completely solve the water leaks in the plant dam, once and for all. EVN is currently keeping a close watch on the dam.
Mr. Vinh said that the dam is strong enough to resist earthquakes that measure 6 on the Richter scale and the reservoir has normal water level capacity of 175m.
Professor Vu Trong Hong, chairman of the Vietnam Irrigation Association, suspects that the plant has accumulated higher water levels than permissible, as seven consecutive earthquakes had been recorded in one day alone.
Associate Professor Phan Van Quynh, from the National University in Hanoi, said that there are some minor fault lines in Bac Tra My District and concerned authorities had not conducted a careful geological survey of the area before building the plant there.
Professor Pham Hong Giang, chairman of the Vietnam National Committee on Large Dams and Water Resource Development, expressed concern on the regular water leaks in the plant dam, which proves the low quality of the dam.
However, estimates made on the dam safety have been based on technical parameters of the plant's design, which supposes that the dam quality is ensured, he said.
Mr. Dung said that opinions given at the meeting were varied and contradictory. He instructed authorized organs to continue to study and give overall estimations on the hydropower plant and also look into ways to set the minds of local residents' at peace, particularly in quake affected areas.
The Science, Technology and Environment Committee will complete a report on issues plaguing the Song Tranh 2 Hydropower Plant and send it to the NA Standing Committee at the earliest.

Related articles:
Reservoir-educed quakes at Song Tranh 2 Plant: Expert
Higher intensity earthquake forecast in Quang Nam Province