The Government's 2009 monetary policies delivered good results and met the National Assembly (NA)'s major targets; however, the State budget needs stricter management, said NA delegates on October 23.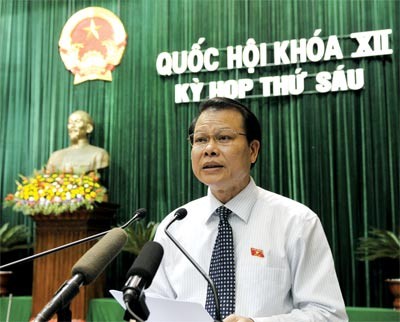 Finance Minister Vu Van Ninh speaks at the 12th National Assembly's sixth session in Hanoi on October 23 (Photo: SGGP)
Delegate Tran Du Lich from Ho Chi Minh City expressed dissatisfaction about State budget collection and spending, saying better accuracy was needed in forecasting expenditures.

He said the allocation of an additional VND6 trillion to pay debts and the spending of VND11 trillion on social welfare was not included in an original estimate approved by the NA.

The Government needs to account for additional spending outside the budget, which has been forecast to increase by 1,790.6 percent over the original estimate, he added.

Delegate Le Thanh Tam, also from HCM City, said the Government's budget collection plan for 2010 was not convincing.

He suggested the overspending planned for 2010 should be confined to 5.5 percent of the country's GDP.

If localities have a surplus of funds after providing the State budget with the set target, the Government will rule on a "reasonable" amount that the localities can keep, said Mr. Tam.

Delegate Le Van Cuong from Thanh Hoa Province said the budget has to be managed strictly and that rewarding localities with the surplus funds would have to be approved by the NA.

Many delegates suggested increasing spending on agriculture and rural areas, reducing spending on state-owned conglomerates and corporations, and reviewing target programs which require funding to avoid squandering money.

Tran Hong Viet, a member of the NA Committee for Finance and Budget, said the Government has been too relaxed about spending budget funds on national target programs.

Huynh Van Ty, head of the Binh Thuan Province NA Delegation, said the implementation of national target programs needs to be reviewed, citing the poverty alleviation program as an example.

Though the number of poor households has decreased, spending on the program has continued to increase, said Mr. Ty.

Dao Xuan Nay, also from Binh Thuan, said spending should be increased on projects that work to prevent natural disasters.

Finance Minister Vu Van Ninh said it was good that the Government remained capable of paying its overdue debts. He added that much of the Government's overspending had occurred because crude oil, import and export profits had failed to meet their targets.