The National Assembly (NA)'s Standing Committee announced Friday that it would hold a live broadcast of its hearing session on budget-capital use in state-owned groups and corporations during the upcoming autumn plenary session.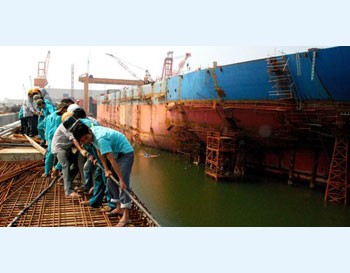 Workers of Vinashin's Dung Quat Ship Industrial Corporation build vessel Dung Quat. Vinashin is one of the stated-groups encounting financial difficulties. (Photo: Tuoi Tre Newspaper)
The announcement came during the NA's closing session Friday in response to public demand.

During the autumn session, which will open October 20 and run for over one month, the committee will carry out a pilot project sending e-materials to NA members via email.
The controversial use of budget capital in state-owned groups and corporations will be addressed during the session.
Some groups have used budget capital to invest outside of their business leading to an overlap between groups and unhealthy competition.
Others are accused of using budget funds ineffectively within their fields, investing money to establish banks and stock companies, which currently make up most of their profits
The committee will also provide the NA with information on a host of topics in the coming session including a nuclear power plant in the central province of Ninh Thuan, bill amendments to the income tax law for businesses, the VAT, and a food safety bill, the committee announced.
The discussion of bills related to Vietnam's maritime matters and information laws will be delayed until next year, the announcement added.
Two issues of public concern have also been delayed. They include a project on bauxite exploitation in the Central Highlands and a report on the 1000-year Thang Long-Hanoi anniversary festival.
Explaining the postponement, the committee said the government had already provided a thorough report on the bauxite project at the NA's previous session, while the report on the Hanoi festival will be sent to NA members after the autumn session.
On the same day, the committee discussed a food safety bill. Following an investigation, the Committee for Science, Technology and Environment of the NA instructed the board in charge of drafting the bill to include the rights and duties of individuals and organizations involved in the food-supply chain.
It also outlined local authorities' responsibility over management of street food and penalties for breaking the law.
The science committee also asked that the bill refer to safe standards for food exploited from the nature for both domestic demand and export.
Food safety laws in other countries regulate such matters, but Vietnam has not yet addressed the issue, said the committee.