National Assembly legislators debated the revised Administrative Procedure Code yesterday at the ongoing 10th session of its 13th tenure.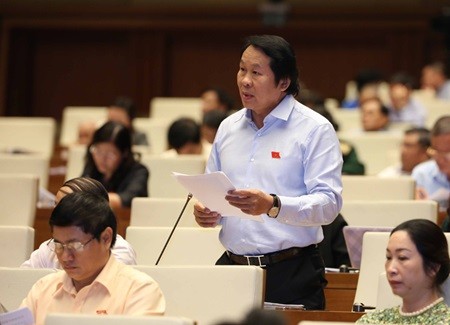 Da Nang deputy Than Duc Nam speaks at the ongoing 10th session of its 13th tenure. (Photo: VNA/VNS)
The law mainly deals with people's complaints towards administrative decisions and activities of authorised agencies.
The revised law must guarantee transparency, publicity, equality and impartiality between people and authorised agencies in court and in line with the 2013 Constitution.
Tran Du Lich, a HCM City deputy, said: "The procedural process must ensure fairness between people and administrative agencies. The revised Administrative Procedural Law and the Civil Procedural Law must be compatible. Procuracy agencies have to equally handle civil and administrative procedures to protect people's administrative rights."
Da Nang deputy Than Duc Nam said the regulation stipulating a first trial at the provincial level People's Court for cases relating to complaints on administrative decisions at district level would not meet the demands of judicial reform that is expected to give more power to the courts at the district level.
Disagreeing with Nam, Bui Manh Hung of Binh Phuoc said the regulation would likely help those having complaints in administrative cases, as a higher level court is in a better position to judge decisions by the administration at a lower level.
The revised Administrative Procedure Code is expected to be adopted at this National Assembly session.
Amendments to tax law
At the same session, NA deputies heard reports on the draft revised tax laws.
In its assessment report the Committee on Financial and Budgetary Affairs confirmed it was necessary to make amendments to the Value Added Tax, Special Consumption Tax and the Tax Administration Law. These should be submitted and passed at this NA session to improve the country's business climate as well as ensuring healthy competition and domestic growth and support industries.
However, some deputies said that the Value Added Tax Law and the Tax Administration Law had already been revised and and came into effect on January 1 this year, while changes to the Special Consumption Tax would not be implemented until January 1, 2016.
If the Government continued to suggest amendments and did not act reasonably, it would lead to instability in the country's policy on tax collection. The Government should conduct an overall assessment of all tax laws and before submitting amendments to the National Assembly for consideration.
In the afternoon, NA deputies continued to discuss and offer feedback on the revised regulations for National Assembly meetings.
They proposed that in cases where deputies failed to attend NA meetings for three working days, they must submit a written form to justify their absence.
Deputies also recommended those with economic expertise should be given priority during meetings focused on socio-economic development.