National Assembly Chairman Nguyen Sinh Hung has stressed the targets for building open education, as well as standardising, modernising and democratising the education system.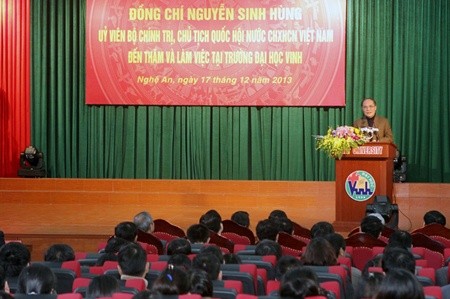 National Assembly Chairman Nguyen Sinh Hung meets with voters at Vinh University in the central province of Nghe An yesterday.—VNA/VNS Photo Nhan Sang
He was speaking at a meeting with voters at Vinh University in the central province of Nghe An yesterday where he said about the resolution of the 8th Plenum of the 11th Party Central Committee on the basic and comprehensive education and training renovation.
Meeting industrialisation and modernisation requirements within the context of a socialist-oriented market economy and international integration is a very important task that opens up a new chapter in the country's education and training.
The Party and State have set goals to make drastic changes to the quality and efficiency of education and training to better serve the nation's construction and defence and meet people's demand for learning, he noted.
As a key educational institution of the northern central region, Vinh University should pay more attention to skill training and international training cooperation, he added.
The NA leader also urged the university's faculties to intensify the research and application of advanced technologies to increase productivity and incomes for farmers.
Taking the floor, staff and students at the university expressed their pleasure at the outcomes of the recently-ended sixth session of the 13th National Assembly, especially the adoption of the amended Constitution, an important political-legal document that facilitates the country's development.
They also asked local authorities to promote the role of training establishments and scientific research agencies and implement the Party's guidelines and the Government's socio-economic development policies.
They also urged the NA to support raising salaries and allowances for teaching staff.