A Vietnamese National Assembly (NA) member recently urged South Korea's Ministry of Environment to prevent its citizens from getting involved in illegal bear bile sales in Vietnam.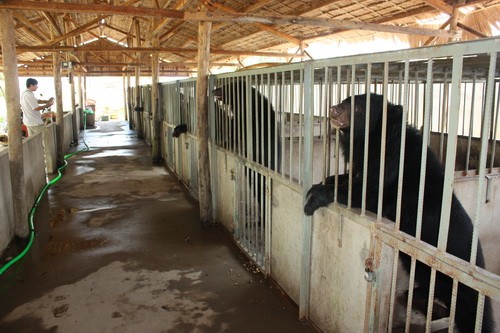 Bear raised in cages at a farm in Quang Ninh Province (Photo: Tuoi tre)
South Korea's JoongAng Daily published Nguyen Dinh Xuan's letter, an NA member of the Science, Technology and Environment Committee, saying that Korean businesspeople and tourists violate the law when they are involved in illegal bear bile sales in Vietnam.
He sent the letter to the ministry on August, 2009, urging the ministry to instruct the Korean public not to get involved in such illegal trade when they travel to Vietnam.
Koreans are advised not to purchase bear bile, which is thought by some to boost health or sexual prowess.
Mr. Xuan said he has not received any official feedback from the South Korean government, though he noted that both countries observe the Convention on International Trade in Endangered Species of Wild Fauna and Flora (Cites).
However, Korean environmental police have questioned some Koreans for involvement in international rings that sell bear bile.
Kim Won-tae, a senior deputy director of the ministry, said Mr. Xuan said many bear farms in Vietnam are allegedly run by Koreans.
 
Around ten bear farms in Ha Long City, Quang Ninh Province - a famous tourist destination, are keeping hundreds of bears in cages, where bile is harvested and sold. 
Through a survey conducted by the environmental group Education for Nature-Vietnam, more than 100 tourist buses transported around 1,500 Korean tourists to bear farms in the span of just ten days in April and August this year.
The newspaper quoted Mr. Xuan's letter that he hopes the Korean Embassy, environment agencies and media will help solve the problem.