Lawmakers believed that a law on labour safety and hygiene should be approved soon to create a legal foundation to tackle violations relating to labour safety and hygiene across the country.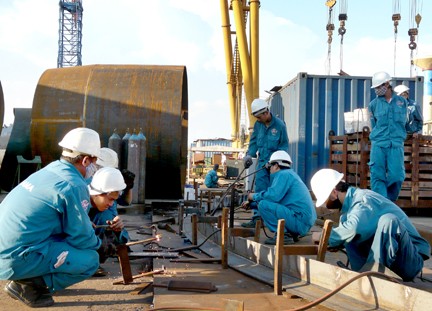 The current Labour Code covers just 17 million workers out of the 54 million in the country. — Photo hanoimoi
At yesterday's meeting of the 9th session of the 13th National Assembly, deputies agreed that the law should target benefit labourers, including those who had no labour agreements such as farmers and self-employed workers.
Bui Sy Loi from Thanh Hoa Province said that more workplace accidents were occurring, especially in the rural, agricultural and farming sectors.
Work place accidents are second only to traffic accidents in Viet Nam in terms of fatalities, with around 600 people killed each year. The current Labour Code covers just 17 million workers out of the 54 million in the country. Around 37 million workers who have no labour agreements, including 24 millions living in rural and agricultural areas, were not protected by the Labour Code, according to Loi.
Loi highlighted an increase in accidents in the workplace recently recorded at construction sites in Ha Noi. This was an alarming problem that required more efforts from State management units and employers.
Loi said that every worker should have the right to work in a safe environment. Including workers without labour agreements in the new law would help improve State management and education and training for labourers.
"It is important to raise awareness of labour safety and hygiene for both employers and workers to minimise the risks of workplace accidents and labourers' rights.
Deputies also discussed issues relating to health care and occupational diseases.
Deputy Tran Thanh Hai from HCM City urged for a list of occupational diseases to be completed.
"To date, only 21 diseases have been added to the list of occupational diseases, bringing the total number supported by the health insurance fund to 30," said Hai.
Hai also said there should be more study and research on job-related diseases and labour safety.
Deputy Nguyen Minh Phuong from Can Tho said that the bill only included regulations on inspections of serious accidents, but not occupational diseases. Phuong suggested adding an amendment to the law on inspecting occupational diseases in accordance with international conventions approved by Viet Nam.
Deputy Khuc Thi Duyen from Thai Binh Province said that the law should regulate strict sanctions against employers that violated labour safety and hygiene regulations. Employers should take responsibility for taking part in training courses and providing information about labour safety and hygiene to their employees.
On the same day, deputies also discussed a report supplementing the evaluation of the 2014 socio-economic development plan and State Budget in the first months of 2015, and the 2013 State Budget balance.
They also heard a Government statement and the NA Standing Committee's evaluation of the revised statistics law.
Economy growing
In the afternoon, NA members discussed in small groups the socio-economic developments of 2014 and the first few months of 2015.
Tran Hoang Ngan, an NA member from HCM City, said it was a good sign that the economy grew at 6.03 per cent in the first quarter of 2015.
However, he said it should be noted that many industries were still struggling, especially small and medium enterprises and the agricultural sector.
Many other delegates expressed concerns at difficulties in finding outlets for farm products.
Nguyen Ngoc Hoa, also a delegate from HCM City, said there must be a long-term solution to the problem of farmers struggling to sell their products.
He called on the Ministry of Agriculture and Rural Planning to revamp production by supporting farmers in using technology to enhance the quality of their products and supporting them with post-harvest technologies.
The Trade Ministry, according to Hoa, must be a link to the outside market. He said it should create policies that encourage firms to build storage areas, thus expanding opportunities to sell farm products in major markets instead of relying only on small traders.
Nguyen Thi Quyet Tam, a member from HCM City, asked the NA to hold a special session to assess the rural situation.
Members also discussed the State budget and praised the Government for ensuring social stability and delivering public services.
However, they also called on the Government to ensure if Viet Nam had the capacity to pay back its public debts, which are expected to account for 64 per cent of GDP this year.