The National Assembly Standing Committee discussed two new draft laws on food hygiene and safety, and energy savings and efficiency on April 15 in Hanoi.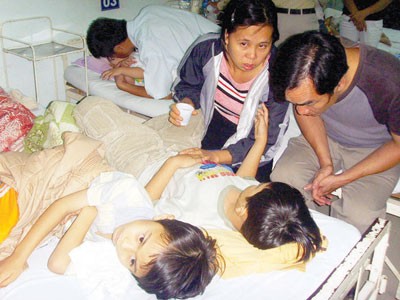 Phuoc Binh School pupils in HCM City are rushed to a hospital after symptoms of poisoning in late Dec. 2008. Food companies must compensate victims if their products cause food poisoning, says the food hyginene draft law ( Photo: SGGP)
The first draft law addressed penalties to be issued for food enterprises that violate regulations, and to what degree such companies should compensate victims if their products cause food poisoning.
Accordingly, firms would be required to pay a fine for food health and safety infractions. The amount of the fine would be seven times more than the cost of the food item determined to be responsible for cases of food poisoning.
The draft also specifies relevant agencies' accountability for specific food items and food production activities that are prohibited, as well as the rights and responsibilities of manufacturers and customers.
In addition, the Ministry of Health has been assigned responsibility for food hygiene and safety.
The Standing Committee also discussed a draft law on energy savings and efficiency in relation to the effective use of energy in agricultural production and households.
Under the draft, the Government would provide financial support, equipment and technology to utilize energy for planting trees in barren areas.
The same day, the Vietnam Food Administration issued new guidelines on the use of polystyrene food takeout containers.
According to the administration, people should only use foam packages with clear indication of origin and not use them to contain hot, acidic or oily foods. Polystyrene packages should also not be used in microwaves.
In related news, the 2010 Action Month for Food Quality, Hygiene and Safety was launched in Ho Chi Minh City, to take place from April 15 to May 15 under the theme "Securing commitments on businesses' responsibility for food hygiene and safety."
The project will focus on heightening the roles and responsibility of businesses in implementing food hygiene and safety regulations and improving the quality and safety of their food products. It also strives to enhance the role of customers in supervision and discovery of fraud in food production.
Under the project, targets for 2010 include forcing all kitchens in industrial parks, processing zones, schools and small workshops to achieve food hygiene and safety certificates.