Many members of the National Assembly's Standing Committee have called for expanding the powers of trade arbitrators and recognizing the validity of their judgments.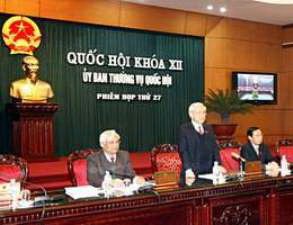 NA chairman Nguyen Phu Trong addresses the 27th session of the NA Standing Committee on January 18 in Hanoi, where the Bill on Trade Arbitrators are discussed in its first meeting (Photo: Nhan Dan)
Discussing the Bill on Trade Arbitrators at the first meeting of its 27th session in Hanoi on January 18, they said the arbitrators' authority to try and settle disputes should be expanded.
The House's Law Committee chairman, Nguyen Van Thuan, said the arbitrators should be allowed to handle civil disputes if requested by the disputants. "The State must provided more legal services to the people," he said.
In some cases, the concerned parties can prefer to have their civil disputes settled by arbitrators rather than courts, he added.
Pham Quoc Anh, chairman of the Vietnam Lawyers' Association, concurred but warned it might be unfeasible due to the "poor professional skills" of arbitrators.
He suggested that the bill should include a regulation on arbitrators' standards to improve their qualifications.
Other members said the validity of arbitrators' judgments should be respected and enforced and arbitrators should be empowered to use emergency measures if required.
"It is essential to ensure enforcement of arbitrators' decisions," Le Thi Thu Ba, chairwoman of the NA's Justice Committee, said.
Some existing laws, like the Maritime Law, Law on Investment, and Law on Stock Exchange, provide for disputing parties to refer to arbitration agencies for settlement in certain cases.
Vu Tien Loc, chairman of the Vietnam Chamber of Commerce and Industry, said it is important for the courts to assist in enforcing trade arbitrators' verdicts.
The bill should have clear and comprehensive regulations on when arbitrators' verdicts can be rescinded, he said, warning their judgments would otherwise lose their effectiveness.
He did not agree with a provision that an arbitrator's verdict can be canceled if one of the disputing parties lodges a request for cancellation.
"This provision will be easy to abuse," he warned.
The committee said since the Ordinance on Trade Arbitration took effect in 2004, only seven arbitration centers have been set up in the country, with three of them not handling a single trade dispute out of the 280 settled in the period.
The NA Standing Committee is also set to consider five other bills on execution of criminal verdicts, efficient use of energy, food safety, posts, and disabled people.