The legislature needs to improve the way it oversees the implementation of government policies and do a better job of following up on issues, National Assembly (NA) deputies said October 29 at the ongoing NA session in Hanoi.
In particular, they criticized the NA for failing to take action when problems arise related to matters that the House is in charge of supervising. Oversight is important, but following up on issues is more important, they said.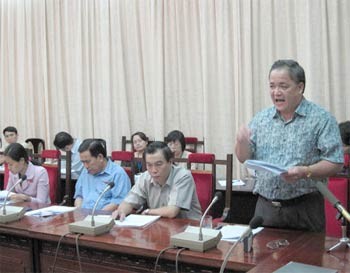 Deputy Duong Hien of Lang Son Province voices his opinions about the NA's supervisory activities, at the NA session on October 29 in Hanoi (Photo: Dat Viet)
Decisive action needed
Deputies Trieu Mui Nai of Ha Giang Province and Nguyen Thi Tuyen of Hanoi said that the NA failed to clearly point out which individuals or agencies should take the blame for problems related to matters under their supervision.
"Last year, the NA conducted food safety supervision, but the situation remained serious and later became even worse," Ms. Tuyen said. Moreover, "No agencies or individuals were punished."
In addition, question-and-answer periods during NA sessions need to be more thorough to help the House do a better job of overseeing matters, said Tran Van Nam of Binh Duong Province.
"During their reports to the NA, some Government members admitted their shortcomings, but what did they do afterwards to correct those mistakes?"
Agreeing with deputy Nam, Le Thanh Liem of Long An Province, said: "Formalism can be seen in the supervisory role of the NA. Many oversight programs were set up in too simple a manner and without necessary preparations. As a result, such oversight later ended with vague conclusions, not helping resolve problems practically."
Most deputies approved of two supervisory programs of the NA for 2010. The first program covers issues related to the establishment of universities and improving tertiary and post-graduate education quality, and the second covers administrative reforms in civil and business fields.
Ultimate supervision over home ownership, land use
Regarding ultimate oversight over administrative reforms, Truong Thi Anh of Ho Chi Minh City said, "They should focus on key issues first, such as the granting of certificates of land-use rights and ownership of houses and other properties attached to land."
This issue is very important and pressing to most citizens but it has yet to be tackled definitively for years now, she said.
"If it can be resolved within this session, the 12th NA is likely to leave a perfect impression and will bring cheer to the public," said Nguyen Huy Can of HCM City.
Pertaining to ultimate supervision over establishment of universities and quality of higher education, he and many other deputies recommended that the NA take on such supervision only after the revised Law on Education is passed and then executed for a certain period.
In addition to these two issues, several deputies, including Duong Hien of Lang Son Province, suggested that the NA's supervisory activities should cover more fields, such as the settlement of complaints and accusations, and issues related to the execution of the Land Law.