The National Assembly (NA) yesterday discussed the draft law on Personal Information Protection during the ongoing 10th session of its 13th tenure.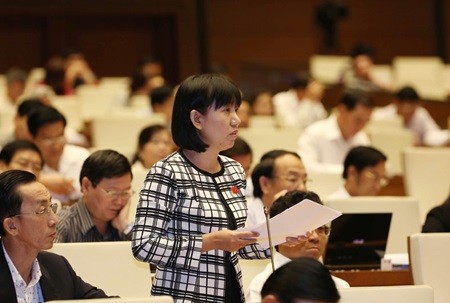 Deputy Doan Nguyen Thuy Trang from HCM City said that even though people are aware that their personal information may have been stolen, it's difficult to know when and from where. — VNA/VNS Photo Phuong Hoa
NA deputies voiced their concerns over the rampant dissemination of personal information. Deputies said thousands of people's personal and contact information is available and may be purchased at absurdly low prices, even as low as 10 US dollars.
Worse yet, the information was posted all over the Internet for anyone to buy, which has resulted in people being bombarded and harassed by countless advertising messages from real estate projects and insurance companies.
Deputy Doan Nguyen Thuy Trang from HCM City said that even though people are aware that their personal information may have been stolen, it's difficult to know when and from where.
The draft law attempted to address such issues by making it mandatory for parties who may be collecting personal information to acquire permission and declare their intentions of how it will be used.
It also prohibited them from sharing or disseminating personal information with another third-party without individuals' expressed permissions or the authority's consent.
Deputies proposed that parties that collect personal information must be subjected to inspections by authorised Government agencies. They also recommended the establishment of a hotline for people to report violations in using personal information and measures to improve awareness among the general public of the rights and responsibilities of parties that collect and use personal information.
Deputy Nguyen Thanh Hai from Hoa Binh said information sharing over the Internet has become an indispensable part of life for many people. Therefore, it's an important task for lawmakers to ensure that the draft law is able to protect people's rights to privacy.
Continuing with the agenda, the Government presented the revised law on the conclusion, accession and implementation of international treaties and agreements to the NA.
The law, which was built on the 1969 Vienna Convention on the Law of Treaties, played an important role in the country's efforts in global integration, especially in helping the country become a member of the World Trade Organisation (WTO).
Since Viet Nam has become a member of numerous international trade agreements, which will soon be taking effect, there is now a need to revise and supplement the current law to better adapt to an increasingly integrated world.
Also during yesterday's session, the draft Law on Religion and Belief was presented to the National Assembly for the first time.
The draft law, which was structured in accordance with the spirit of the 2013 Constitution, aims to replace a 2004 ordinance on belief and religion and to protect citizens' freedom of religion, as well as other human rights.
It would also help actualise the Government of Viet Nam's commitment to ensure religious freedom and to honour international treaties and agreements that the country is a part of.
In the afternoon, lawmakers mulled over in groups the draft law on export-import and the draft law on amendments and supplements to some articles of the law on value-added tax, the law on special consumption tax and the law on tax management.
Some deputies said the amendments of these laws are not necessary, since the law on tax management and the law on value-added tax were just amended earlier this year, while the law on special consumption tax has not even come into effect yet.
Discussing the law on special consumption tax, deputy Tran Du Lich from HCMC said amendments should ensure fairness among enterprises, regardless of their state or non-state status. The amendments should also aim at simplifying administrative procedures to facilitate the tax declaration and payment.
Deputies also said proper calculation need to be conducted to avoid overlapping tax for imported goods.
Deputy Vo Thi Dung from HCMC also said regulations on criteria for tax industry officers needed to be added to the Law on Tax Management.
"We have not been able to address shortcomings in tax management, especially regarding tax calculating and tax collecting teams," she said.