National Assembly Chairman Nguyen Sinh Hung has suggested that the World Bank extend preferential loans to Viet Nam and assist the country in dealing with climate change.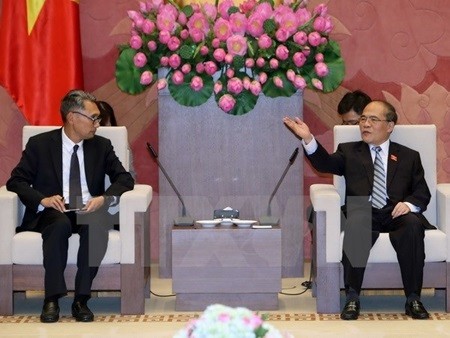 National Assembly Chairman Nguyen Sinh Hung (R) meets with 11 executive directors representing 65 member countries of a World Bank (WB) group in Ha Noi yesterday. — Photo VNA
Speaking to 11 executive directors representing 65 member countries of a World Bank (WB) group in Ha Noi yesterday, Hung asked the group to continue its help to countries - which already completed hunger elimination and poverty reduction but still have a high rate of poverty and in high risk of poverty returning again – such as Viet Nam.
Viet Nam had issued and implemented policies on poverty alleviation and new rural programmes focusing on farmers but the country still needed financial assistance and consultation from international organisations, including the WB, he said.
Noting Viet Nam was among the most severely-affected by climate change, the Vietnamese top legislator said he hoped the WB, with its actions and strong voice to connect countries and international organisations, would help support Viet Nam in coping effectively with climate change.
He mentioned the National Assembly's approval of the 2013 Constitution, which further highlighted human rights and citizens' rights as well as regulated strongly on reforms to integrate the country wider and deeper into the international community. The reforms also aimed to prevent and fight against corruption, Hung noted.
During the meeting, the Chairman praised the WB's contributions and affirmed the bank's assistance helped Vietnam come close to achieving the United Nations' Millennial Goals and begin implementing the UN's sustainable development programmes, which was passed at the UN's General Assembly in September.

The World Bank's development projects were significant in Viet Nam and well-known to all, not only officials at ministries and sectors at the central Government but also to local people, including those in mountainous and remote regions, Hung said.
Rionald Silaban, WB's executive director representing the constituency Brunei Darussalam, Fiji, Indonesia, Lao PDR, Malaysia, Myanmar, Nepal, Singapore, Thailand, Tonga and Viet Nam, thanked the Vietnamese leader for receiving him.
He stressed the goal of the visit was to get opinions from the leaders of countries in the region to serve as a basis for planning the WB's activities in future.
The WB delegation spoke of the social-economic achievements Viet Nam had achieved and said that it would work along side Viet Nam for sustainable development.