The National Assembly (NA) wrapped up its 32-day session November 27 with the passing of two resolutions to improve the operation of state-owned enterprises and to continue having agencies answer NA deputies' queries in writing.

With a majority vote, the legislature passed a resolution on enhancing the effectiveness and efficiency of policies and regulations on capital use at state-owned corporations and groups.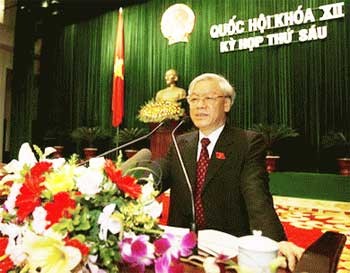 NA Chairman Nguyen Phu Trong speaks at the closure of the sixth session of the 12th legislature in Hanoi on November 27 (Photo: Hanoi Moi)
In the resolution, the Government was required to step up the equitization of state-owned enterprises; strengthen control over the operation of state-owned corporations and groups; and apply strict and decisive measures, including forced bankruptcy, on those operating at too low efficiency or incurring loss over a long period.

The Government was also urged to adopt specific regulations on reporting by state-run economic groups and corporations about their operations, including profit distribution, to relevant agencies for control and supervision.

The NA also wanted the Government to revise its legal documents and regulations governing the use of State capital and assets by groups and corporations, and submit a report to the NA to prepare for the promulgation of a law pertaining to this field.  
   
Functions of the administration at state-run corporations and groups must be clearly regulated to improve their operational efficiency and at the same time, the right of these economic entities to self-govern must be respected, the NA said.

The NA also asked the Government to re-consider the organizational models of groups and corporations, and increase the quality of their personnel to boost operational efficiency.

In another resolution, the NA asked members of Government and the tribunal president of the Supreme People's Court to continue replying in writing to deputies' questions.

Cabinet members who were questioned at the session must take measures to tackle relevant issues and report the results to the NA at its next session.

Speaking at the closing meeting, NA Chairman Nguyen Phu Trong said the NA had fulfilled its agenda, including the socio-economic development plan for 2010; the approval of seven bills and amended laws; and the passing of two resolutions on a hydropower project in Lai Chau Province and a nuclear power project in Ninh Thuan Province.

The legislature also discussed 11 other drafted and amended laws that will be considered and passed at the next NA session.

Despite impacts of the global financial crisis, the country has managed to prevent an economic recession, maintain acceptable growth, stabilize its macroeconomic environment, and ensure social security this year, said the chairman.

He called on government agencies, businesses, and citizens to continue efforts to fulfill the country's social and economic targets for 2010.