This week's agenda for the ongoing National Assembly (NA) session will focus on reviewing socio-economic performance in 2009, discussing new targets for 2010, and considering several bills.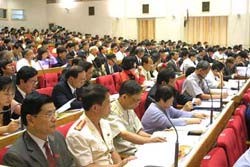 NA members at the ongoing session in Hanoi (Photo: Kinh te & Do thi)
During two meetings on October 27 and 28, NA delegates will express their opinions on the progression of economic targets for 2009, including State budget spending and revenue.
They will also discuss socio-economic development plans for 2010.

The meetings will be broadcast live by the Radio Voice of Vietnam and the Vietnam Television network.

The agenda will also include a discussion of the Bill on Militia and Self-Defense Forces, the Bill on Medical Examination and Treatment, and the Bill on Radio Frequency.

In addition, NA delegates will consider amendments to the Education Law, VAT Law and Corporate Income Law.

The NA's supervision program for 2010 will also be discussed this week with a focus on legislating the establishment of universities and administrative reform.