The National Assembly--the highest level representative body of the people should be the first responsible to residents for the effectiveness and development of state own enterprises (SOEs), said head of the Central Institute for Economic Management Nguyen Dinh Cung at the Spring Economic Forum 2015 on April 22.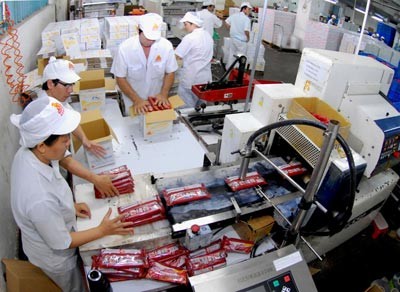 Processed food production at Vissan Company (Photo: SGGP)
The NA should issue its ownership policies under the form of resolutions. These policies will be a legal footing to grant management authority to the Government who will implement the ownership right at SOEs and take responsibility to the NA and residents for the effectiveness of state capital invested in businesses.
The Government will concretize and carry out the NA's ownership policies.
A Government's ministerial agency should be established to exercise state ownership rights as well as roles of investors, shareholders or members at businesses. Other agencies should not attend in making decisions and management at these companies.
According to Mr. Cung, local and foreign firms have long said that Vietnam's law and policies were unstable and regularly changed causing disadvantages for them. They are inexplicit and unforeseeable. 
A recent survey by the Vietnam Chamber of Commerce and Industry shows that only 11 percent businesses can anticipate policy changes by ministries and central agencies and about 7 percent can predict modifications by local authorities.
Domestic enterprises said that local authority levels usually give more priorities to foreign firms than local firms.