The National Assembly Steering Committee on August 12 met to talk over the draft revised housing law including foreigners' house purchase and public and individual possession in apartment blocks.
Apartment Block 584, Tan Phu District, HCMC where severe disputes over common and individual possession often occurs between dwellers and investor (Photo: SGGP)
Chairman of the NA Law Committee Phan Trung Ly said that the committee agreed with the draft law on permitting foreigners to buy and own houses in Vietnam.

Regulations in the draft law are quite close and likely not to affect domestic housing policies, he added.

According to the draft regulations, the permission will be applied to those who are permitted to enter Vietnam. Foreigners will be allowed to buy commercial houses in areas where do not ban foreigners from residing and travelling across. They will be able to purchase at prices higher than the prices that the Government rules in each period.

The committee proposed to supplement regulations on payment methods, precluding money laundering. Specifically, foreign house buyers will pay via banks and credit institutions allowed to operate in Vietnam.

However deputy head of the Judiciary Committee Nguyen Dinh Quyen disagreed with the proposal, saying it will not work to prevent and fighting against money laundering.

Chairman of the National Defense and Security Committee Nguyen Kim Khoa said it was too wide to allow all foreigners legally entering Vietnam to buy houses. He proposed to impose a condition on minimum residence time.

Being interested in public and individual possession in apartment blocks, the Law Committee suggested that parking areas in apartment blocks are common possession to limit conflicts in management and usage of apartment blocks.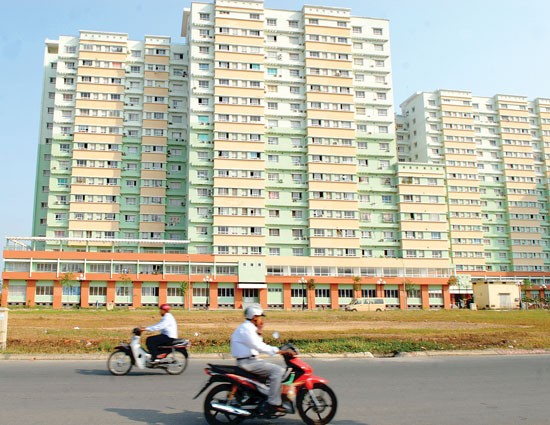 A new apartment block in HCMC (Photo: SGGP)
The committee said it was unnecessary to set usage time of apartment blocks and the Government needed only to fix basic principles to determine it. However several delegates disagreed with this point of view.

Chairman of the NA Office Nguyen Hanh Phuc said that the usage time was to prevent customers from buying nearly expiry and unsafe apartments.

Common and individual possession should be clear in apartment blocks, said NA deputy chairwoman Nguyen Thi Kim Ngan. Areas which investor keep to do business including parking lots should not be calculated in selling prices of apartments.