Vice Chairwoman of the National Assembly (NA) Tong Thi Phong hosted a reception for a visiting US delegation led by Elder Jeffrey R. Holland, a member of the Quorum of the Twelve Apostles of the Church of Jesus Christ of Latter Day Saints on August 17 in Hanoi.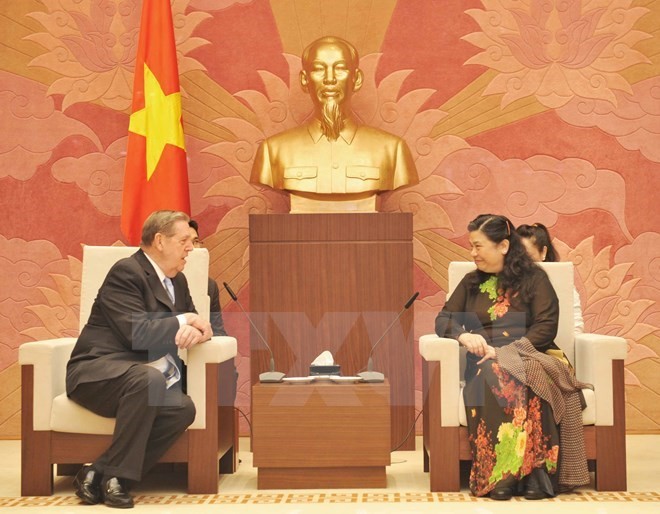 NA Vice Chairwoman Tong Thi Phong (R) and Elder Jeffrey R. Holland at the reception. (Photo: VNA)
The Chairwoman lauded the visit as a move to strengthen mutual understanding and friendship between the peoples of Vietnam and the US, particularly as the two nations celebrate the 20th anniversary of their diplomatic ties.
Vietnam is a multi-religious country where people from different religious groups live in harmony, she said, adding that the Government creates all favourable conditions for these groups to practice their religions in accordance with law while encouraging them to engage in social activities and build a better life.
The NA is soliciting feedback on the draft Law on Belief and Religion, which follows the spirit of the 2013 Constitution that promotes religious freedom, Phong noted.
She also hoped Elder Holland would help Americans understand Vietnam better and continue to boost Vietnam-US relations.
For his part, Elder Holland spoke highly of Vietnam and its people and pledged to serve as an ambassador in bridging the two countries.-VNA