The National Assembly (NA) Standing Committee Friday discussed plans to apportion VND20 trillion of Government bonds in 2009, and a policy to increase tax on large gas and oil profits due to rising world oil prices.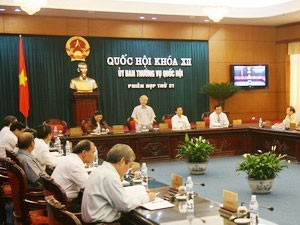 The Chairman of NA, Nguyen Phu Trong (C), dilivers speech at the 21st session of the NA Standing Committe on Jule 17, 2009. (Photo: VNA)
According to a report on apportioning bonds in 2009 by the NA's Commission for Finance and National Budget, in the first five months projects using the bonds received only VND5.3 trillion in a package of VND36 trillion.
The head of the NA's Commission for Economy, Ha Van Hien, said if the Government does not write a more detailed policy to spend the money, they will fail to boost the economy.
Mr Hien suggested the Government to urgently issue necessary instructions for the adjusted laws on infrastructure construction, aiming to hasten the use of Government bond capital.
Regarding projects provided with bond capital, the head of the NA Commission for Finance and National Budget, Phung Quoc Hien, asked to cut capital for building student's dormitories by VND1.5 trillion to VND2.5 trillion.
The cut has come about because of the slow release of funds, he said.
Head of the NA Commission for National Defense required the NA to focus on strengthening dykes to face challenges from rising sea levels, especially in Ho Chi Minh City.
Relating to tax on large profits made by oil companies due to oil price increases, Finance Minister Vu Van Ninh said that in 2008 the oil prices rocketed while tariffs on crude oil exports were not adjusted, as the Finance Ministry worried about effects on national production and trade.
"The best way to regulate unusual profits is to issue rules on additional levied tax without distinguishing crude oil for export or domestic production," he said.
The Government plans to levy a one-off 50 percent tax on the profits from increased rises in oil prices.