A grand ceremony was held in the northern city of Nam Dinh on October 5 to mark the 750th anniversary of Thien Truong, the ancient capital of the Tran dynasty (1225-1400).
On the occasion, the city was honored for its socio-economic achievements with the presentation of the Ho Chi Minh Order, the second-highest order of the nation, from the State's leader.
The same day, it was also recognized by the Government as a first-class city.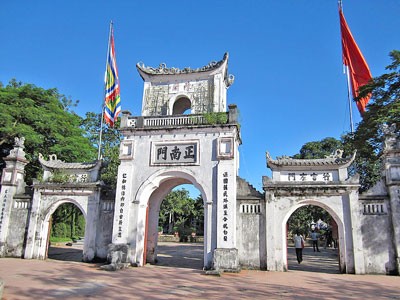 Tran Temple in Nam Dinh(Photo: SGGP)
Addressing the ceremony, President Truong Tan Sang asked local authorities to work towards the development of Nam Dinh so as to convert it into a maritime economic hub in the southern Red River Delta region.
President Sang also praised Thien Truong as a place that has nurtured outstanding people who have contributed much to the nation. He expressed his hope that with its geographical advantages and prosperous economy, Nam Dinh will further develop on its rich past, overcome hardships, difficulties and play a key role in nation building.
Earlier, the President and other high-ranking officials made offerings at the Tran and Bao Loc Temple, where 14 kings and mandarins of Tran Dynasty are still worshipped.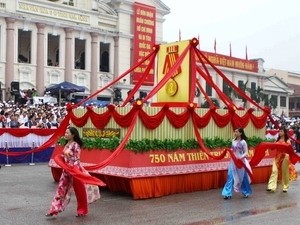 At the ceremony (Photo: VNA)
Located in the south of the Red River Delta, Nam Dinh's fertile land is fed by the silt from the River Cai. With a heroic past history, the young generation of Nam Dinh is today proud of its achievements.
Nam Dinh is home province of the Tran dynasty, a dynasty famous for 'martial arts and cultural values'-- the most popular period in Vietnamese feudal history.
The Tran dynasty had three times defeated the troops of the Yuan- Mongolian Empire, and built Dai Viet (old name for Vietnam) into a prosperous nation.
In spring 1262, after a 37-year reign, King Tran Thai Tong, whose birthplace was Tuc Mac Village (now My Loc District), ordered his subjects to build a royal complex and a temple to worship ancestors, which was upgraded into the Thien Truong Palace complex.
The complex acted as a special administrative and political centre south of the kingdom's capital city of Thang Long (Hanoi).