Prime Minister Nguyen Tan Dung recently decided to allocate VND 289 billion from the 2007 state budget to provide 7,050 tons of rice to flood – hit provinces.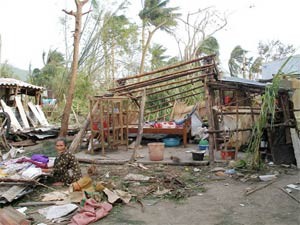 A house devastated by the storm

Specifically, Son La Province will be distributed VND 19 billion and 550 tons of rice; Ninh Binh Province VND 44 billion and 1,000 tons of rice; Thanh Hoa Province VND 81 billion and 3,000 tons of rice; Nghe An Province VND 42 billion and 1,500 tons of rice; Hoa Binh Province VND 18 billion and 500 tons of rice and Quang Binh Province VND 22 billion and 500 tons of rice.
From the same budget, Quang Tri and Ha Nam Provinces will be allocated VND 5 billion each, whereas Phu Tho Province will receive VND 8 billion.
As at 7:00am yesterday morning, the flood left 66 people dead and 14 people were still missing. The flooding also destroyed, submerged and damaged approximately 22,500 houses and offices and swept away over 145,000 hectares of rice and farm produce.
In related news, the Sai Gon Giai Phong's Social Program has received relief contributions of nearly VND 200 billion. These funds were collected from the board of management and employees of the Hoa Binh Joint – Stock Company. The proceeds will be allocated and handed to families of the flood victims as soon as it is possible.
On November 10, SGGP newspaper reporters on behalf of readers handed relief money to 13 families of the flood victims living in Nam Giai, a border commune of Nghe An Province. Today, the reporters will offer relief money to 21 families in other communes within Nghe An province, whose relatives were killed by the floods.
After that, the reporters will proceed to Thanh Hoa Province and give the relief money to families in the same situation there. Each family will receive an amount of VND3 million.
Related articles: