The whole nation is putting all its resources into the relief work in flood-hit areas as thousands of officials and soldiers are joining hands to relieve the suffering of flood victims and help them get back to their normal lives.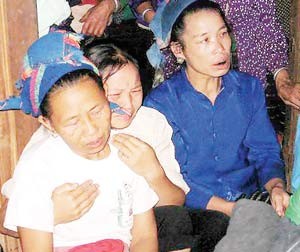 Many people are in great sufferings because of the heavy flood
Relief work is promptly being carried out in the worst-hit areas in northern and central Viet Nam including Ninh Binh, Son La, Thanh Hoa, and Nghe An Provinces.
More than 4,488 soldiers, 31,166 militiamen, and hundreds of ships and motor vehicles are working around the clock for the rescue and relief work.
Three helicopters have been added to the effort, traveling back and forth to provide eight tons of food, necessities, and medical aid for victims in the northern and central provinces.
The Health Ministry has also joined the relief effort by dispatching health officials equipped with medicine and equipment to the flooded areas.