The United Nations Day and the 30th anniversary of Viet Nam's joining of the UN were marked at a ceremony held in Ha Noi on Wednesday.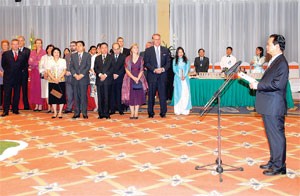 Prime Minister Nguyen Tan Dung (R) delivers a speech at the ceremony to mark the UN Day in Ha Noi on Oct 24

Prime Minister Nguyen Tan Dung said the three decades witnessed great progress in Viet Nam-UN comprehensive cooperation.

He reiterated that Viet Nam strives to be a responsible member, and commits to supporting principles and targets of the UN Charter and the UN's central role in maintaining peace, security and settling global development problems.

PM Dung said the country greatly appreciates the UN's assistance to Viet Nam's socio-economic development.

After being elected to the UN Security Council for the 2008-09 term, Viet Nam will do its utmost to contribute to the work of the Security Council in particular and the UN in general, PM Dung said.

John Hendra, UN Resident Coordinator for Viet Nam, stressed that the UN is a proud partner of Viet Nam and praised the great changes Viet Nam has made over the past 30 years.