The Vietnam Buddhist Sangha held a ceremony on Dec. 16 to mark the 701st anniversary of the attainment of Nirvana of King-Monk Tran Nhan Tong (1308-2009), the founder of Vietnamese Zen Buddhism.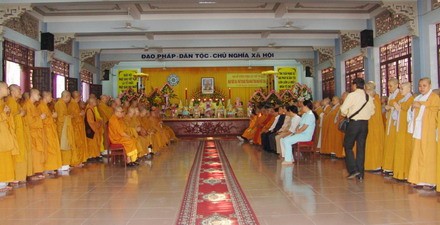 Monks at Quang Duc Zen Monastery in Ho Chi Minh City commemorate the 701st anniversary of the attainment of nirvana of King-Monk Tran Nhan Tong on December 16. (Photo: giacngo.vn)
During the event, held in the northern province of Quang Ninh, construction of a bronze statue of the King kicked off on the Holy Yen Tu Mountain. Once complete, the statue will stand 9.9 meters tall and weigh around 100 tons. 
The mountain is said to be the place where the King-Monk's passage to nirvana took place.
On the occasion, the Ministry of Culture, Sports and Tourism coordinated with relevant ministries and Quang Ninh Province authorities to petition UNESCO to recognize the King as a World Cultural Celebrity.
On the same day, the Vietnam Buddhist Sangha in Ho Chi Minh City also held a solemn ceremony to commemorate the anniversary of the King's attainment of nirvana.
Venerable Thich Tri Quang, head of the Executive Board of the HCM City Buddhist Sangha, delivered a speech about Tran Nhan Tong (1258-1308), the third emperor of the Tran dynasty. He is famed for defeating Mongol invaders and for his great services to the nation and Buddhism.
The emperor abdicated his throne at the age of 35 and spent the rest of his life on Yen Tu Mountain practising and propagating Buddhism, and founding the Truc Lam School of Zen (the Bamboo Forest School).
To commemorate the King, the Vietnam Buddhist Sangha chose the day King Tran Tran Tong attained Nirvana (the first of the 11th lunar month) as the national anniversary of Vietnamese Buddhism.