A ceremony to mark the centenary anniversary of the birth of Pham Hung, the late Chairman of the Council of Ministers, took place in the southern province of Vinh Long on June 11.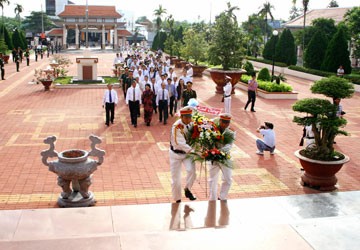 Party and State leaders lay flower wreaths to pay tribute to comrade Pham Hung at Memorial Temple in Vinh Long Province on June 11, 2012.
When addressing the event, Prime Minister Nguyen Tan Dung highlighted the great contributions that Pham Hung, an eminent student of President Ho Chi Minh and prestigious leader, made to the Vietnamese Communist Party and State.
"Comrade Pham Hung was one of the most talented and exemplary leaders of the revolution in Vietnam ," PM Dung said. "He was an excellent example of a true communist who faithfully devoted his entire life to his country and his people. His revolutionary life and career are closely connected with the arduous yet glorious fight made by our Party and people."
Born on June 11, 1912, Pham Hung joined the youth movement at the age of 16 and two years later became one of the first members of the Communist Party of Vietnam in southern Vietnam .
At the second National Party Congress in 1951, he was elected to the Party Central Committee. Later, he also served as a member of the Party Central Committee and the Politburo for several successive tenures.
In June 1987, the National Assembly chose Pham Hung as Chairman of the Council of Ministers. He passed away in March 1988.
Earlier on the same day, PM Nguyen Tan Dung and Party and State leaders offered incense to Pham Hung at a memorial site dedicated to him in Long Phuoc commune, Long Ho district of Vinh Long province.