Leaders of Vietnamese and UK parliaments met in London yesterday with a view to elevate co-operative ties between the two legislative bodies.
At a reception for the Vietnamese delegation led by National Assembly Chairman Nguyen Sinh Hung, Speaker of the House of Lords, Lord Baroness D'Souza, spoke highly of the visit and of the strong bilateral ties between the two countries, especially after the Viet Nam-UK Strategic Partnership relation was established in 2010.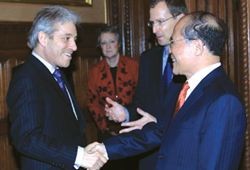 National Assembly Chairman Nguyen Sinh Hung met with the Speaker of House of Commons, John Bercow, in London yesterday
She also praised Viet Nam's growth in diverse fields and the prospects for further co-operation.
Apart from developments in economics, trade, investment, education and training, D'Sounza said she looked forward to enhanced relations between the two legislative bodies.
In return, Hung said the visit aimed to promote and strengthen the basis of the bilateral partnership.
He also thanked his UK counterpart for securing Official Development Assistance (ODA) for Viet Nam, which had made the UK a leading European Union member in offering non-refundable aid to the country.
Hung also briefed the hosts about the establishment of the Viet Nam-UK Friendship Parliamentarians Group, which will serve as an active bridge between the two bodies and nations.
Hung was later received by Speaker of the House of Commons, John Bercow. The two sides agreed to enhance exchanges and co-ordination in resolving other regional and international affairs of mutual concern.
Also yesterday, Hung met with London Mayor Michael Bear.
They both expressed delight to the yesterday's launching of the direct flight between Viet Nam and the UK, which was significant for relations in trade, investment, tourism and education between the two countries.
They also agreed to offer businesses from London to work efficiently in Viet Nam, particularly in terms of finance, banking, insurance and oil and gas.
On the same day, Hung and his entourage talked with a Vietnamese community in the UK.
Agreements
Vietnamese Finance Minister Vuong Dinh Hue and UK Commercial Secretary to the Treasury James Sassoon discussed measures to boost co-operation during their working session in London on Thursday.
Hue highly valued co-operation and assistance from the UK Treasury, which provided nearly US$10 million to Viet Nam in non-refundable aid to carry out a project to reform public finance management and other projects in the financial field.
The minister said Viet Nam expects to receive more assistance from the UK Government and the Treasury in finance, public debt management, encouraging the flow of UK investment in Viet Nam, providing technical assistance for economic restructuring and implementing the public-private partnership investment model.
Sassoon praised Viet Nam's efforts in overcoming economic difficulties as well as its measures to improve policies and restructure the economy.
He also pledged to continue stepping up close relations with Viet Nam, accelerating the performance of signed projects and increasing the exchange of information and technical assistance in the future.
Earlier, Hue also had a working session with Chief Executive of the Association of Chartered Certified Accountants (ACCA) Hellen Brand.
Hue praised ACCA's contributions to training personnel for Viet Nam's audit and accounting sectors and expressed his wish to receive more assistance from ACCA in the years to come.
On the same day, Minister of Transport Dinh La Thang and UK Under-Secretary of State for Transport Mike Penning signed an agreement on aviation co-operation between the two countries.
The agreement would help airlines from both countries utilise two-way flights.