The War Invalids and Martyrs Day (July 27) was observed around the country on July 26 with many events being organized and attended by senior Party and Government officials.
HCMC youths light incense and candles at martyrs' graves on July 26 to mark war invalids and martyrs (Photo: SGGP)

In Can Tho, Prime Minister Nguyen Tan Dung and local officials laid wreaths and offered incense at the Martyrs' Cemetery, the final resting place for nearly 4,000 war martyrs and heroic mothers who sacrificed their life in the struggle for independence.
At the martyrs' cemetery on Phu Quoc Island off the southern province of Kien Giang, standing member of the Party Central Committee Secretariat, Truong Tan Sang, Vice President Nguyen Thi Doan, and Ho Chi Minh City Party Committee secretary Le Thanh Hai attended a solemn ceremony to commemorate and bury the remains of martyrs that were discovered recently.
They had died in Phu Quoc's prisons during the resistance against the French and the Vietnam War.
 
Local officials, a large number of former prisoners, martyrs' relatives, religious dignitaries, and the public also participated in the memorial and offered incense to every grave in the cemetery.
The remains of more than 1,000 fallen combatants in Phu Quoc have yet to be found and the search for them is continuing, according to local authorities.
At the National Martyrs' Cemetery Road 9 in Dong Ha town, in the central province of Quang Tri, Party and Government representatives joined local officials, the public, Buddhists, and overseas Vietnamese to pay tribute to fallen combatants.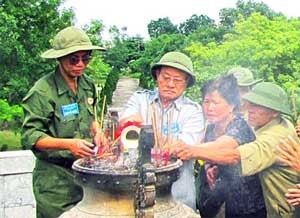 Veterans burn incense at the National Martyrs Cemetery Road 9 in Dong Ha, Quang Tri Province (Photo: SGGP)
At the Ho Chi Minh City Martyrs' Cemetery, incense and candles were lit at more than 14,000 graves during a memorial service attended by Mr.Hai, former vice president Truong My Hoa, city People's Committee chairman Le Hoang Quan, city People's Council chairwoman Pham Phuong Thao, and a large number of veterans, former prisoners, martyrs' relatives, and young people.
On behalf of the city's youth, HCMC Communist Youth Union secretary Nguyen Van Hieu delivered a eulogy expressing everyone's gratitude to the martyrs. He promised that the city's youth would follow their example and contribute to making the city a civilized, modern, and socialist.
Similar services were held at martyrs' cemeteries around the city, including in the districts of Binh Chanh, Nha Be, and Cu Chi, the last named a renowned revolutionary base during the Vietnam War.
The city's Red Cross and its Binh Chanh District unit offered free medical checks and gifts together worth VND350 million (US$19,700) to 840 families living in three communes in the district and in the southern province of Long An.  
The HCMC Eye Hospital provided free examination and surgeries to 100 wounded soldiers with cataract, relatives of martyrs, and senior revolutionary veterans. The hospital also examined 620 others and gave gifts to 300 poor families in Kon Tum Province in the Central Highlands.