Party General Secretary Nong Duc Manh, Vice President Nguyen Thi Doan and other leaders of the Party, State, Government and military visited General Vo Nguyen Giap yesterday to wish him a happy 99th birthday.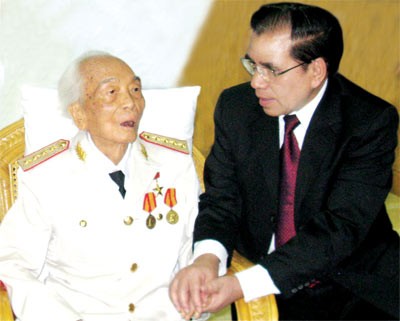 Party General Secretary Nong Duc Manh (R) wishes war hero General Vo Nguyen Giap on his 99th birthday (Photo: SGGP)
The General Secretary wished General Giap longevity and a clear mind, and for his continued contribution of valuable opinions related to national construction and renewal.

Mr. Manh said the General would forever remain a bright example of a commander-in-chief and the big brother of the People's Army who has made important contributions to the revolutionary cause of the Party and the people.

General Giap expressed his thanks to the Party General Secretary and other visiting leaders, and his pleasure about the country's recent socio-economic achievements.

He said he believed all officials and soldiers would further develop the tradition of "soldiers of Uncle Ho" and would continue practicing, studying and self-improving to better accomplish all tasks assigned by the Party, State and people.