President Truong Tan Sang joined Ho Chi Minh City authorities and over 7,500 local residents at a charity walk yesterday to raise awareness for the International Day for People with Disabilities, which falls on December 3.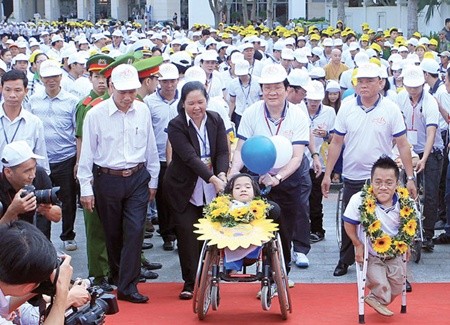 To mark the International Day of People with Disablities (December 3), President Truong Tan Sang participated in a charity walk in HCM City yesterday to raise funds to support disabled children. — VNA/VNS Photo Nguyen Khang
Addressing the event, Vice Chairwoman of the municipal People's Committee Nguyen Thi Hong called on the public to support the country's more than six million people with disabilities, 20 per cent of whom are dependent on their relatives.
Vice Chairwoman Hong said the Party, State and municipal authorities always worked hard to ensure that the disabled fully enjoyed benefits and interests in line with the 2011 Law on Persons with Disabilities.
On the occasion, President Sang presented gifts to 12 talented children with disabilities from every part of the country, each worth VND5 million.
Businesses also raised funds to support young Agent Orange and cancer victims and generated jobs for thousands of them.
The charity walk will come to Ha Noi, Da Nang, Ho Chi Minh City, Can Tho, Tay Ninh and Quang Tri next year.
On November 30 in Ha Noi, the Ministry and Labour, Invalids and Social Affairs coordinated with the Viet Nam Federation on Disabilities and Vietnam Television to hold a music show, "For a world without barriers".
Speaking at the event, Vice President Nguyen Thi Doan said Viet Nam had joined the United Nations Convention on the Rights of Persons with Disabilities, as the nation was strongly committed to protecting and caring for the less fortunate. The move received overwhelming support from ministries and organisations at home and abroad.
UN Coordinator in Viet Nam Prathibha Mehta vowed to provide continued assistance to the Vietnamese government for promoting the rights of the disabled via practical initiatives.
Camp for disabled
Some 6,000 disabled residents from Ho Chi Minh City and 13 southern localities gathered at the Suoi Tien Entertainment and Cultural Park in District 9 on Saturday to take part in a camp marking the International Day for People with Disabilities.
The camp, the 14th of its kind, was co-organised by the municipal Department of Labour, War Invalids and Social Affairs and the Suoi Tien Culture and Tourism Joint Stock Company.
With support from 300 volunteers, the disabled guests joined cultural activities and folk games and enjoyed free meals.
The programme also called on organisations and individuals to demonstrate their social responsibility by assisting disabled people to live a better life.
Disabled people currently account for 15 percent of the country's population, with Ho Chi Minh City alone home to 44,000, according to the Centre for Disability Research and Capacity Development.
Improving access
In Ha Noi, the city is working to support people with disabilities by offering them easier access to public facilities. This effort is part of a municipal master plan on assisting disabled people to be put in place during the next five years. The plan also includes vocational training, job creation and healthcare components.
According to the capital People's Committee, new public facilities and buildings are installing elevators and ramps to allow wheelchair users easier access.
The city will also continue issuing free cards for disabled residents who travel by bus. During the 2009-2013 period, the city granted an additional 5,936 free bus cards, raising the total to nearly 20,000.