Hanoi and northern Vietnam welcomed New Year Eve in warmer feeling thanks to not only better weather but also family reunion during Tet holidays while it was cool in the south, differing from annual heat of the spring time.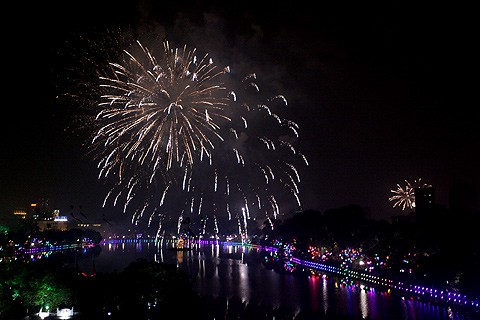 Fireworks set off in Ho Hoan Kiem, Hanoi on New Year's Eve
Last night fire crackers were set off nationwide to welcome the New Year of the Cat (Chinese and Koreans call Year of the Rabbit).
Tens of thousands of people went into Hanoi streets for enjoying fireworks. After the New Year Eve, residents traditionally visited pagodas in the city to burn incense for praying a prosperous and peaceful New Year.
In Ho Chi Minh City although the city set off fireworks in 9 places, as traditionally people liked to enjoy fireworks in the city downtown, walking along the Nguyen Hue Flower Street as clusters of fireworks were brightening in the sky.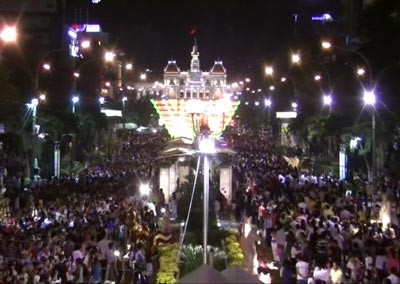 Ho Chi Minh city's resident enjoy fireworks on Nguyen Hue Flower Street.

Numerous of foreigners join city residents in the downtown to welcome New Year. Most of them work in Vietnam, others are tourists.
People who did not flock into streets burned incense in front of ancestral altar with a tray full of fruits and banh chung, praying for a New Year of prosperous happiness and health and good luck.
In the UNESCO heritage ancient city of Hoi An a lantern festival is being held, displaying 150 unique lanterns made by local artisans.
This is the first time Hoi An city welcomes the New Year in drizzle weather since along time. Hoi An streets are decorated with brightening lanterns. They are reflected along Hoai River, looking like the glistening Galaxy.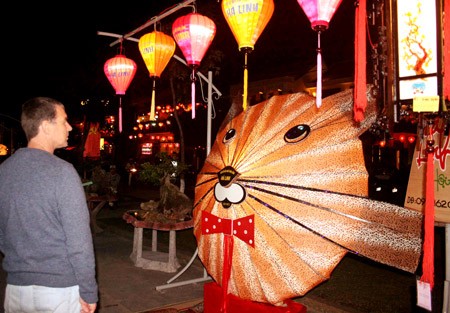 A foreign tourist watches a cat-shaped lantern displayed at Hoi An Lantern Festival
In central region, despite unusual cold hit people are heated with feeling and gifts from country's corners, aiming to help central residents overcome damages from natural disasters last year.
In the New Year's Eve, National TV channels broadcast President Nguyen Minh Triet congratulating fellow citizens, wishing the people, comrades and soldiers a Happy, Prosperous and Peaceful New Year.