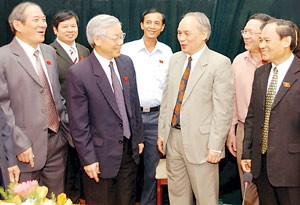 NA Chairman (3rd,L) talks with NA Legal Committee's members during the break time of the conference
National Assembly Chairman Nguyen Phu Trong praised the NA Legal Committee for its important contributions, saying the Committee has been functioning as one of the backbone committees in the NA, playing an important role in legislative activities.
At a conference reviewing the Legal Committee's works during the 11th legislature in Ha Noi on Sunday, Chairman Trong said the Legal Committee has continuously improved organizational and operational methods, accomplished the making of many laws and undertaken its supervisory function effectively. He also lauded the committee for ensuring the quality and efficiency of its functions.
Highlighting the importance of supervision to the National Assembly, the Chairman asked the Committee to focus on the implementation of policies and the enactment of laws together with enhancing its capacity and effectiveness of the work.
He shared the view with participants that supervision and question-and-answer sessions should be reinforced at NA committees to ensure effectiveness and to meet voters' expectations.
During the NA's 11th tenure, the Legal Committee has worked hard in building laws, supervising tasks and expanding international cooperation. The number of bills, decrees and draft solutions examined by the committee saw a remarkable increase during the tenure.
At the conference, participants voiced the need to further enhance the capacity of the Committee's staff together with employing collaborators with theoretical and practical experience, describing it as important to raise the effectiveness of the Committee, especially in the legislative process.
They expressed special concern on how to increase the quality of ratified laws and codes, and the process of enacting these laws.
They also made comments on the revised laws on supervision of the National Assembly and National Assembly organization, which may provide for the splitting of the Legal Committee into a legal committee and a justice committee in the next legislature.