The eighth session of the 12th National Assembly wrapped up in the capital city of Hanoi on November 26 after more than one month of sitting.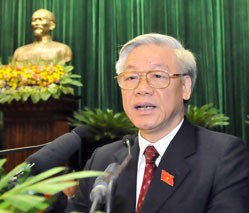 Chairman of the NA Nguyen Phu Trong delivers speech at the closing meeting of the NA 8th session in Hanoi on Nov. 26, 2010. (Photo: VNA)
"This is one of the most exciting sessions with a series of important contents," NA Chairman Nguyen Phu Trong commented on the session's result, adding that the NA hailed the active involvement of deputies and the government's meticulous preparations.
He urged the deputies to keep close contacts with voters, listen to and reflect voters' views to the National Assembly and supervise the response to voters' requests.
During the session, the NA discussed and assessed the implementation of the plan on socio-economic development and state budget for 2010, and the socio-economic development plan and the budget estimate for 2011. They also conducted their law-building and supervision tasks and decided a number of important issues for the country.
NA deputies reviewed and adopted nine laws, namely the Law on Environmental Taxation, the revised Law on Inspection, the Law on Administrative Procedures, the Law on Public Employees, the Law on Protection of Consumers' Right, the revised Minerals Law, and the laws on amendments and supplements to some articles in the laws on securities, insurance business, elections for NA deputies and people's councils. The NA passed the resolution on exemption of taxes on agricultural land use.
The issuance of the laws and resolution bears an important significance, contributing to improving the legal system and meeting the country's development demand.
The NA also discussed for the first time and gave opinions to nine other draft bills on the capital city, independent auditing, complaint, denunciation, measurement, anti-human trafficking, archives, cooperatives (revised) and the bill on amendments and supplements to some articles in the Civil Procedure Code.
Upholding democracy and their sense of responsibility, the NA conducted Q&A sessions with the prime minister and four ministers on major issues, such as prices, trade deficit, management and operation of state groups and companies, electricity production and supply, the safety and effectiveness of bauxite projects in the Central Highlands.
As the session took place just before the XIth National Congress of the Party, NA deputies also discussed and gave opinions to draft documents to be submitted to the Congress, thus contributing to the event' success and the national development cause.