The ninth sitting of the 13th National Assembly (NA) opened in Hanoi on May 20, seeking ways to implement the 2013 Constitution and inspect key national socio-economic issues.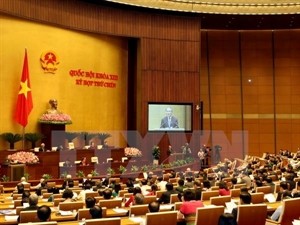 An overview of the event (Photo: VNA)
Attended the opening session were Party General Secretary Nguyen Phu Trong, State President Truong Tan Sang, Prime Minister Nguyen Tan Dung, NA Chairman Nguyen Sinh Hung, former leaders and representatives from international organisations.
Top legislator Nguyen Sinh Hung highlighted the significance of the sitting which aims to review the country's recent development, from economics and social affairs to defence, security, external and judicial matters while defining urgent tasks to be fulfilled this year.
He said 11 draft laws and resolutions will be considered for approval.
Deputies are expected to give feedback on other 16 bills relating to judicial activities such as the revised Penal Code, the revised Civil Code, the revised Civil Procedure Code, the law on the organisation of criminal investigation agencies and the law on temporary detention and arrest.
They will review the Government's reports on the implementation of socio-economic development and the State budget plan in 2014 and the first few months of 2015, as well as construction of the Long Thanh international airport and the application of law on criminal procedures.
The sitting will also review a report by the NA Standing Committee on the settlement of voter opinions sent to the NA's previous sitting and another on the organisation of the recent 132nd Assembly of the Inter-Parliamentary Union.
It is expected to take place over the next 30 days and several sessions will be broadcast live on television and radio.-VNA