Economic and budgetary matters are on top of the 12th National Assembly's agenda as it convened for the month-long third session in Ha Noi today.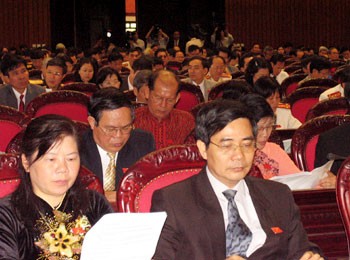 The 12th National Assembly convenes in Ha Noi on May 6
During a preparatory meeting Monday, National Assembly Chairman Nguyen Phu Trong said, "The decline in the growth rates of some sectors in the fourth quarter last year and the impact of global factors have badly affected socioeconomic growth this year.

"Economic growth in the first quarter was lower than in the same period last year and fell short of the target. Industrial growth has slowed down."

He asked lawmakers to focus on urgent issues like inflation, social welfare, and poverty.

The debates will include a two-day session when ministers will field questions from NA deputies. The last few years have seen the government being grilled by lawmakers during this session.

In an earlier report sent to NA deputies, the government suggested that the GDP growth target for 2008 should be trimmed from 8.5-9 percent to 7 percent.

It said, however, that setting a higher GDP target was always a good thing. There was no mention of an "inflation target".

During the session, the NA is expected to approve 12 bills and debate seven others, according to the NA Office.

Two important resolutions on the expansion of Ha Noi and allowing foreigners to buy houses will also be discussed.

Other bills cover the management and use of state property, the Red Cross' activities, value-added tax, corporate income tax, publishing, combating and preventing the use of drugs, and the revised Civil Code.