Today the National Assembly delayed decision of the expansion of Ha Noi as scheduled and did not announce when it will approve the project.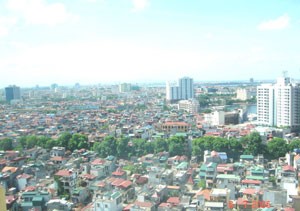 According to the expansion project Ha Noi will have 8 million inhabitants.
Two days ago the expansion of Ha Noi was the hottest topic of the 12 NA session and garnered 31 different opinions.
Some deputies said the project to adjust the official border of Ha Noi was done carelessly and without reference to experts or public opinion.
"Since 2000, the constructive model of Ha Noi capital has been stated in the resolutions of party and in the laws of the government," said Minister of Justice Ha Hung Cuong, a deputy from Quang Binh province. "There has been no effort to collect peoples' suggestions for the adjusting the border."
"There is no contradiction between garnering people' opinions on adjusting the official border and continuing with the project," he added.
Lack of information to the National Assembly
The government's proposal did not include enough documentation and had other potential problems, Deputy Tran Tien Canh of Ha Nam province told the Assembly. This concern was echoed by other deputies, including Duong Trung Quoc from Dong Nai province and Nguyen Lan Dung from Dac Lac.
"We should seriously learn from experience," Dang Nhu Loi from Ca Mau said. "I suggest the National Assembly should make decisions based on realistic and scientific foundation to ensure they will have the desire effect."
Minister of the Interior Tran Van Tuan admitted some explanations in Statement No. 60 were too brief and unclear and thus created misunderstandings among the deputies. But the lack of specific detail did not change the main thrust of the statement, he asserted.
National Assembly Chairman Nguyen Phu Trong said the session received enthusiastic, straightforward, responsible opinions from the deputies. The government's presentations and explanations should be scrutinized and carefully taken into account, he said.