National Assembly deputies agreed with the need to pass a Law on Religion and Belief, but called for more specificity in the proposed law to address fundamental issues concerning religious freedom in Viet Nam.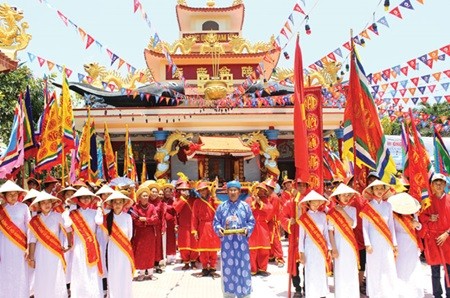 The Nghinh Ong Festival in Ca Mau Province from February 13 to 16 of the lunar calendar provides opportunities for fishermen to demonstrate a traditional water ceremony, remembering the source and praying for safety while fishing. (Photo: VNA/VNS)
During a group discussion yesterday morning, several deputies – including Buddhist monk Thich Chon Thien from central Thua Thien-Hue Province; Phung Khac Dang from northern Son La province; and Nguyen Thi Bach Ngan from central Ba Ria-Vung Tau province - said it was necessary to pass the law to solidify Viet Nam's guidelines on religious freedom and align the domestic legal framework with international conventions that Viet Nam has joined.
However, Ngan and two other deputies - Do Ngoc Nien from central Binh Thuan Province and Nguyen Tan Tuan from Khanh Hoa Province - said the draft law was too simplified to adequately cover the complex development of faith-related activities.
The draft deals only with institutes of faith and their practices, but it does not clarify forms of belief including worship of gods, goddesses and ancestors. Vietnamese worship a large number of gods, especially those related to agriculture such as sun, moon, land, mountain, river and forest deities. Each ethnic minority in Viet Nam has its own way of practising its traditional beliefs, most notably those maintained by some ethnic groups such as the Tay-Thai, Hmong-Dao, Hoa-San Diu-Ngai, Cham-Ede-Gia Rai and Mon-Khmer.
Faith-based festivals have been organised across the country, but problems like superstition, overcrowding and gambling have reportedly arisen during the festivals. These problems have upset the public and must be addressed in the legal framework, according to the deputies.
Moreover, they said the draft law should include detailed content on religious activities that have been banned.
The banned activities for individuals or organisations must be clear so that religious freedom would not be used for superstitious purposes or profiting scam artists, said Deputy Truong Minh Chien from the southern Bac Lieu Province.
Law on children
Deputies agreed that the Law on Child Protection, Care and Education should be changed to the Law on Children or Law on Child Rights Protection.
The name is shorter, but covers a wider area of regulation in line with other laws like the Law on the Elderly and Youth Law.
Many deputies agreed to a Government proposal that would increase the age at which one is still considered a child to under 18. The age increase not only matches international conventions, but also matches the local regulation on the adult age – the age at which people can fully be responsible for their acts as adults.
Under the Law on Child Care, Education and Protection that took effect in 2004, a person is considered a child in Viet Nam if they are under 16. However, the United Nations' International Convention on the Rights of the Child defines a person under the age of 18 as a child.
Deputy Thach Thi Dan from the southern Tra Vinh Province said it was necessary to study the potential impacts of a child age increase, especially as it relates to 16- and 17-year-olds.
She urged careful assessment and solutions to problems including child marriage, juvenile abortion, child sexual abuse and child labour.