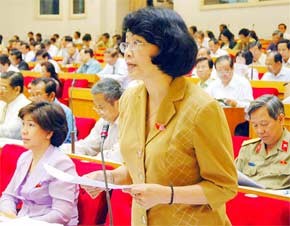 Ms. Dang Thi Ngoc Thinh from Ho CHi Minh City raises her ideas at the NA session
National Assembly deputies focus their May 18 working day on discussions of measures to curb price rises in the wake of price increases of oil gold in the world market.
Many NA deputies said the Government needs to take systematic measures strong enough to control prices.
Prices vs. salaries
Deputy Tran Van Kiet from Vinh Long Province said when price increases in the key items will result in price rises in other commodities. Meanwhile, according to Government reports, relevant State agencies have not proposed measures to curb price hikes.
He said, "People are quite worried because current prices in general are high already, so further price rises mean more difficulties for production and people, especially who live on Government salaries. I want the Government and National Assembly to take measures to curb further price rises."
Deputy Ngo Sy Huong from Thai Nguyen Province said media have run information that the minimum salary is expected to increase to VND400,000-420,000 per month in this October, so prices have risen in advance. A lesson to learn is running this information before a suitable point of time could be negative, according to him.
Deputy Nguyen Van Me from Thua Thien-Hue Province said the Vietnamese economy is connected to the world economy, so are prices. Therefore, policy makers are required to come up with suitable policies to minimise the negative impact from outside. He said that salary policies should have pensioners' plight factored in, citing that their pensions have risen about 3% on average but last year's consumer price index increased by 8%.

Government spending higher than estimates

May NA deputies mentioned improper details in Government report on spending in 2004. Mr. Nguyen Duc Kien, chief of the NA Economic and Budget Board, said in many cases, spending exceeded the estimated level but no effectiveness.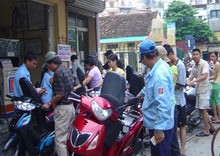 People buy gasoline in Ho Chi Minh City. Oil price in Viet Nam has increased several times.
He said the Government just approved a 0.5% rise for real spending compared with estimates. However, the excess at the Ministry of Transport was 10.5%, 122% at the National Sports Committee, and 113.1% at the Ministry of Planning and Investment. He added nationwide spending for administrative management exceeded by 33.5%, and this overspending included waste.
Deputy Nguyen Thi Hong Thu from Thua Thien-Hue Province said the Government needs to assess effectiveness of Government spending.
Deputy Le Quoc Dung from Thai Binh Province said the Government needs to report how many works were funded by the State budget in 2004 but not put into use. The Government needs to disapprove spending for finished works with cost not yet endorsed.
Hearing the problems, Mr. Tao Huu Phung, deputy chief of the NA Economic and Budget Committee, proposed inspection and auditing. He said auditing has not been conducted for more than half of provinces, ministries and State agencies nationwide. When inspectors and auditors discover wrongdoings and misuse the State budget in 2004, appropriate punishments must be applied, he said.
Finance Minister Nguyen Sinh Hung blamed the overspending in 2004 on the costs of the fifth Asia-Europe Meeting, personnel increases in the legal system, diplomatic units overseas and so on. He said most of these spending details have been audited and deemed proper.
However, most National Assembly deputies did not agree with the Government's State budget report for 2004. NA Vice Chairman Truong Quang Duoc asked the Government to make a separate report on Government spending in 2004 for each NA deputy.