National Assembly deputies' yesterday morning discussed a draft law on higher education and expressed their pleasure at the contents that include a standard educational system, organisational structure, autonomous rights, socialized education and finance, university assets, education quality control and international education co-operation.
NA deputies also said that the autonomous mechanism should be applied to 100 per cent foreign invested institutions in order to lure in more foreign capital.
As for the assessment of university education quality, majority of NA deputies agreed that the disclosure of assessment results should be made compulsory.
Pham Vu Luan, Minister of Education and Training, cleared some questions raised by NA deputies at the meeting on the need to issue a Law on Higher Education. He told the deputies that the Government recently reviewed 10 years of conducting the model in national universities and detected some shortcomings.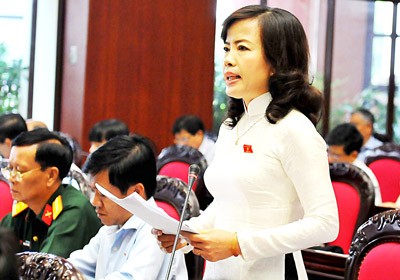 Deputy Nguyen Thi Kim Thuy from Da Nang City presents ideas at the meeting. (Photo SGGP)
That is why it is necessary to issue a Law on Higher Education which is comprised in seven chapters and 74 articles, he stressed.
Establishing university board committees at state universities was necessary as deputy Duong Trung Quoc from Dong Nai Province argued that such committees would not only help enhance autonomous rights of higher institutions, but create a healthy, transparent and responsible system as well.
Deputy Quoc also suggested that the Ministry of Education and Training should provide detailed regulations and define the responsibility and duty of each committee member.
Regarding classification of universities, participants agreed that the law should regulate specific criteria, standards and classifications of universities based on position, role and functions.
Deputy Nguyen Thanh Phuong from Can Tho City suggested grading universities should be carried out soon after the law is put into practice.
Lawmakers yesterday agreed that universities should be given rights but a roadmap should also be made to give rights to universities.
Regarding a regulation on teachers' qualifications, some deputies wondered if universities or art colleges in some provinces would find enough teachers that possess a postgraduate degree.
Related to the content on socializing education, Deputy Huynh Thanh Dat from Ho Chi Minh City proposed to clarify the concept of profit and non-profit education in order to issue proper policies for each.
Deputy Nguyen Thi Kim Thuy from Da Nang City, said research showed that 100 per cent of private education units were operating for profits only. Because of pressure from shareholders, education is run for profits, affecting training quality.
Regarding foreign invested universities that want to function autonomously, some deputies suggested regulating the percentage of the capital contributed by foreign investors, to be assessed case by case depending on the rate of foreign funds.
Yesterday afternoon, NA deputies deliberated on the revised Trade Union Law draft.
Some other issues of the draft law were also discussed, including the scale of enterprises to have trade unions, finance sources for the union activities and responsibilities of unions in organising and leading strikes.
Many deputies expressed their ideas that it is necessary to stipulate and define the role of trade unions in the strikes of workers so that the strikes comply with the current regulations of the law.