Chairman of the National Assembly's Council of Nationalities Ksor Phuoc suggested building policies that encourage self-reliance among ethnic minority groups at the council's 11th plenary session yesterday in Ha Noi.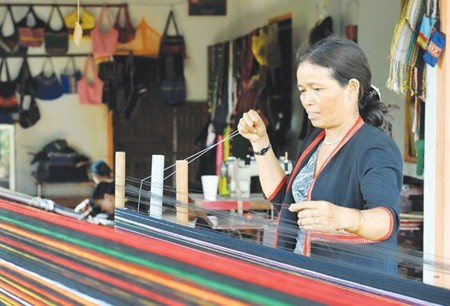 An ethnic minority woman works at Tong Bong Brocade Weaving Co-operative in Buon Ma Thuot City in the Central Highlands province of Dak Lak. — VNA/VNS Photo Thanh Ha
NA members will put forth draft laws in preparation for the ninth sitting of the 13th legislature, including the revised Civil Code, Penal Code and Law on Referendum. The plenary session runs until May 19.
Council Vice Chairman Son Phuoc Hoan said some 2015 policies on ethnic minorities had yet to come to fruition due to a lack of time and financial sources.
Many policies aimed at ethnic minority groups had been implemented poorly, as staff weren't trained properly, said council member Chu Le Chinh.
Delegates suggested reviewing the ethnic minority policy system, scrapping overlapping programmes while focusing more on preserving ethnic minority groups' individuality.
Viet Nam is home to 54 ethnic minority groups inhabiting mainly mountainous, border, sea and island areas that hold strategic importance for the country's politics, economics, security and defence.
Therefore, the Vietnamese Party and State consider ethnic minority policies a strategic issue and major political arena.
Viet Nam has 130 policies targeting ethnic communities, according to the Government's Committee for Ethnic Affairs.