The National Assembly is scheduled to continue its question-and-answer session on Monday, which will be broadcast live on the VTV1 channel of Viet Nam Television.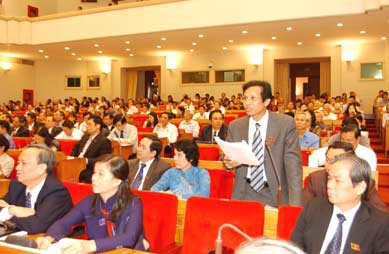 Delegates continue question-answer at the National Assembly's 10th session
Minister of Education and Training Nguyen Thien Nhan, presiding judge of the People's Supreme Court Nguyen Van Hien and Prime Minister Nguyen Tan Dung will answer NA deputies' questions.

This week will conclude the National Assembly's 10th session. NA deputies will discuss and vote a resolution approving Viet Nam's WTO entry on Wednesday.

Legislators is about to discuss the country's external affairs in 2006 and the construction of NA House.

Trade Minister Truong Dinh Tuyen will deliver a report on the results of negotiations for Viet Nam's WTO entry.