Credit and economic growth are currently hot debate topics at the ongoing fourth session of the National Assembly.
On October 24, the discussion in Parliament focused on the implementation of the socio-economic development plan in 2012, and future plans for 2013; the situation of the State budget in 2012; and the draft budget and central budget allocation in 2013.
Banking expert Can Van Luc supposed it was too early to peg credit growth targets for 2013, but setting credit growth at 15-17 percent versus proposed GDP growth of 5.5 percent would be reasonable.
Credit began to garner sharper growth from third quarter in 2012 and as of September 30, banking sector credit growth surpassed 2 percent, according to Tran Van Tan, head of Credit Division of the State Bank.
Albeit retaining gloomy forecasts for global and local economy, Tan still assumed the State Bank would maintain and control banking sector's full-year credit growth within 15-17 percent in 2013.
SGGP reporter on the sidelines of the session of the National Assembly interviewed Dr Tran Hoang Ngan, NA deputy from Ho Chi Minh City, who said that the solutions to current bad debt of the Government do not work.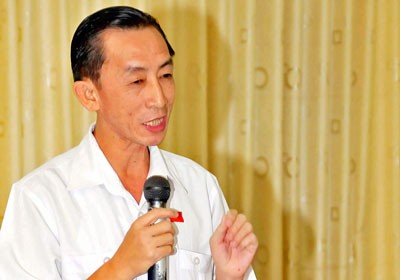 Dr Tran Hoang Ngan, NA deputy from Ho Chi Minh City(Photo: SGGP)
To understand that debt settlement is not solved by the commercial banking system only but for the whole economy, Dr. Ngan stated.
"Removing bad debt as the tumor in the body, a bottleneck in the implementation of policies is urgently necessary. Only when this is removed, the Government can conduct the new policies with the intention of restoring order in the field of goods and monetary circulation," he added.
"From the beginning of the year, when the economy was in decline, the government wanted to decrease the interest rate, but could not cut down the rate as the commercial bank interest rate was competitive", the doctor argued.
"So we have to mobilize all intellectual and financial resources to resolve bad debt problems. It is not effective as the current mortgage has been overvalued. Now we have to find new capital to handle bad debt problems and save the economy. To solve the bad debt, we have to establish a committee including the State Bank, Ministry of Finance, Ministry of Construction, the Ministry of Public Security", concluded Ngan.
"Until this time, the country's credit just expanded over 2 percent. The bottlenecks like bad debts and businesses' capital absorption capacity have yet to be effectively tackled. Thereby, in my view, 2013 credit growth will not be better than in 2012," said Dr. Ngan.
In respect to banks' credit growth targets in 2013, Dr. Ngan said the State Bank would continue allocating suitable credit growth targets to each bank. In the meantime, the State Bank would combine allocating 2013 credit growth targets with bad debts in each credit entity.
This issue, however, has triggered a hot debate.
"In my view, the State Bank should not take the same move [allocating credit growth targets to banks] as in 2012 which have proven less effective, even bringing repercussions. In early 2012, central bank kept a close eye on banks' credit growth target application. In mid 2012 it loosened credit growth targets, some 'problematic' banks were also given higher [credit growth] targets," said deputy director general of a commercial joint stock bank, adding that this has lessened banks' confidence in State Bank policies.
Another Bank CEO said, "Credit growth limits just work when curbing inflation was put on top priority and is less significant in current context. Otherwise, hot credit growth in 2013 would be unlikely."
However, Dr. Ngan assumed central bank should not impose credit growth targets on banks in 2013 but let banks expand their credit matching their capacity and development orientations.
"Central Bank shall control credit growth level based on factors like lending amount, total deposit amount, liquidity or provision rate. Besides, assuming the State Bank set 2013 banking sector credit growth at 15-17 percent, banks would not outdo this benchmark," he said.
Some industry experts, however, kept low expectations for banking sector's 2013 credit expansion perspective, he affirmed.