National Assembly delegates yesterday discussed issues facing small- and medium-sized enterprises (SMEs) and measures the Government should adopt next year for economic development.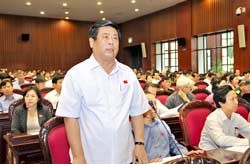 Binh Dinh Province delegate Vu Hoang Ha speaks at the NA meeting
By last August there were around 350,000 businesses in the country, of which 90 percent were SMEs, Tra Vinh Province delegate Duong Kim Anh said, citing figures from the Ministry of Planning and Investment.
They accounted for 92 percent of the jobs in the economy, she said.
But according to the Viet Nam Association of SMEs, 60,000 of its members have been driven to the brink of bankruptcy, she said.
A report by the NA Economic Committee blamed it on their lack of funds and a slowdown in global demand.
In the event, Ms. Anh said, the NA should reconsider the feasibility of the targets set for job creation and reduction of poverty and ratio of malnourished children.
 
Many other delegates voiced concern about the efficiency with which state-owned economic groups and corporations use capital.
They have been capitalized at VND403 trillion (US$24.2 billion) and provided loans of VND514 trillion ($30.9 million), but their profits are not commensurate, Do Manh Hung from the northern Thai Nguyen province said, citing a report by the State Audit Committee.
These companies have also spent VND7.37 trillion (US$442.6 million) on unscheduled investments in stock exchange, banking and property, and run up a trade deficit of $21 billion, he said.
Nguyen Van Nhuong suggested that the NA should oversee capital use by economic groups and corporations.
Economist Tran Du Lich from Ho Chi Minh City expressed apprehension about the health of the economy. He pointed out that the incremental capital-output ratio (or ICOR, a measure of investment efficiency) is high, the industrial and agricultural outputs are on a downward trend, and production costs are high and uncompetitive.
Mr. Lich suggested setting next year's economic growth target at around 6 percent and inflation target at 9-10 percent.
He wanted priority to be given to major projects, loan rates cut, production and trading encouraged, consumption boosted, and credit offered to SMEs.
Affected by the global economic recession, the country would continue to face difficulties next year, he warned. Exports may slow down, business operations may shrink, and worker layoffs may occur, he said.
Deflation may set in and foreign exchange reserves may dip, he said.
Tran Hong Viet from Hau Giang Province said to enhance economic efficiency, the Government should improve its ability to forecast and sense developments in the global market.
He urged tougher action against fake goods, particularly fertilizers and pesticides that are causing great losses to farmers around the country.
During a discussion about oil prices, Be Xuan Truong from Bac Kan asked, "Why were retail prices reduced in dribs and drabs though global prices declines sharply?" This is an irritional point in the pricing policy that needs to be tackled, he said.