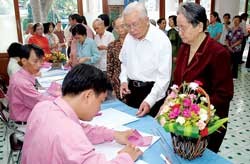 Voters in Ho Chi Minh City cast their ballots on May 20
493 deputies from all walks of life were elected to the 12 th National Assembly following the country's May 20 polls, said Elections Council Secretary General Bui Ngoc Thanh.
Mr. Bui Ngoc Thanh, who is also a member of the Standing Committee of the National Assembly, announced the poll's result at a press briefing on May 29, stating that tertiary educated deputies make up the backbone of the new legislature as virtually all hold either graduate or post graduate degrees (62.68 percent and 33.27 percent, respectively).
Other statistics of note included the oldest deputy at 80 years-old and the youngest aged 24 years-old. Women made up 25.76 percent of the law making body and ethnic minorities took 87 seats or 17.65 percent of the Assembly.
"Non-Party members won 43 seats, or 8.72 percent of the NA," said the elections council leader.
Mr. Thanh also said that the new National Assembly is slated to convene its first meeting on July 19 or 20 and focus on forming a new cabinet.
"The new legislative staff will also review the progress made in implementing socio-economic targets in the first half of the year to adjust the targets for the entire 2007 year," said the senior legislator.
The recent elections were witness to high transparency and democracy, Mr. Thanh concluded.