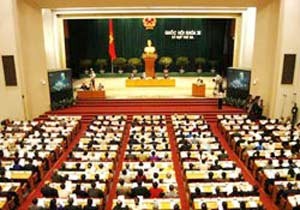 NA meeting to discuss amendments and additions to the Law of NA Organization.
NA Chairman Nguyen Phu Trong yesterday chaired a meeting in Ha Noi to discuss amendments and additions to a number of articles within the Law governing the organization of the National Assembly.
Notably, the deputies unanimously agreed with a revision to the structure of the committees and the subsequent establishment of four new committees; the Law, Justice, Economic, and Finance and Budget Committees have been formed by splitting both the existing Law Committee and the Economic and Budget Committee. These four new units will all be under the management of the National Assembly.
Previously, the NA Standing Committee had proposed to split the Committee for Social Affairs and the Committee for Culture, Education, Youth and Children whilst also discussing the possible establishment of a new Ombudsman Committee or a NA inspection body. These topics will be discussed over the next few days during the remainder of the meeting.
According to Mr. Trong, the establishment of these new committees aims to aid in the implementation of the Party resolutions, the Law on Corruption Prevention and Combat, the Law on Budget and the policy to gradually renew and perfect the organization and operations of NA bodies, helping to improve the effectiveness of NA activities.
The NA Standing Committee gave their opinions on the draft Law about Legal Aid and discussed adjustments to the current activities of the NA, such as the vote of confidence, the increase in the number of full-time deputies within the NA and the set up of the NA General Secretary role.