National Assembly deputies yesterday were divided when discussing changing the age of responsibility of children as part of the draft revised Law on Child Protection, Care and Education. Under the Law on Child Care, Education and Protection that took effect in 2004, a person is considered a child in Viet Nam if they are under 16.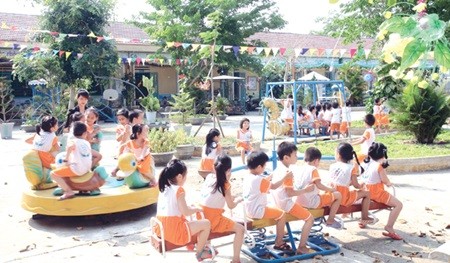 Children at Tam Phuoc Commune Kindergarten in Phu Ninh District, Quang Nam Province. National Assembly deputies discussed changing the age of responsibility of children during the session yesterday. — VNA/VNS Dinh Hue
Deputy Pham Thi Hong Nga from Ha Noi agreed with the Government's proposal that would increase the age at which one is considered a child to under 18.
She said the age increase matches international conventions, particularly the United Nations' International Convention on the Rights of the Child, which defines a person under the age of 18 as a child.
She said that people aged from 16 to 18 underwent big physical and psychological changes and special care was needed to help them develop fully and minimise the risk of child labour or child abuse.
"The age increase will expand the area of regulations by the law and help juveniles at least finish their high school education," she said.
According to Ministry of Labour, Invalids and Social Affairs, if the child age is increased to under 18, Viet Nam will have 30 million children instead of 27 million while there are about 2,500 officers working in child care, protection and education nationwide, Deputy Nguyen Van Canh from central Binh Dinh Province Canh said, adding that understaffing was still a problem in this area.
Deputy To Van Tam from Kon Tum Province said that more careful studies on the impacts of raising the age of responsibility was needed.
On other parts of the proposal, deputies said that more rights and obligations of children should be protected by law such as the right for abandoned or trafficked children to identify their hometown or re-contact relatives.
Deputy Tran Thi Dieu Thuy from HCM City said that child rights should be based on their age and development because some rights could only be practiced when the children reached certain ages, for example, rights to own assets, to access information and to voice their opinions.
Under the proposal, the Government lists child rights as the same as those in the United Nations' International Convention on the Rights of the Child.
The proposal also names 16 banned acts against children but deputy Ma Thi Thuy from northern Tuyen Quang province urged more banned acts be specified rather than the catch all term child abuse.
Deputy Huynh Phuoc Sang from central Binh Phuoc Province said that the law should clarify the responsibilities of parents in ensuring the development of children.
He said he was very upset to see the phenomenon that parents used the right to live of their children to make profit. He said that parents must not deprive children of their childhood.
NA passes two laws
The National Assembly (NA) yesterday morning ratified the Law on Statistics with a majority of over 84 per cent.
The new law consisting of 72 articles in nine chapters regulates data collection work, the use of State's statistics, rights, responsibilities and obligations of relevant individuals and organisations.
The law takes effect in July, 2016.
The NA also passed the Law on Meteorology and Hydrology with 83 percent approval on the same day.