The National Assembly yesterday stressed the need to improve budget efficiency as it passed the 2009 state budget estimate with a vote of over 88 percent in favor.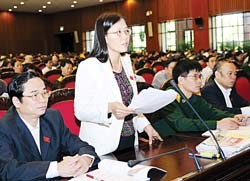 Deputy Le Thi Nga, from Thai Nguyen province, speaks at the NA meeting yesterday (Photo: SGGP)
According to the approved estimate, budget revenue and expenditure are set at VND404 trillion (US$24.3 billion) and VND491.3 trillion respectively, for a projected deficit of VND87.3 billion, accounting for 4.82 percent of the 2009 GDP.
The meeting also agreed on measures for effective implementation the state budget, with the focus put on practicing thrift and improving the efficiency of using funds.
Next year will see government bonds worth less than VND36 trillion issued as a source for investments in projects related to traffic, irrigation, school building, hospital upgrade, and some others. 
The fiscal policy should be carried out in combination with monetary and other policies to restrain inflation, maintain economic growth and secure social security, the meeting was told.
The deputies wanted unreasonable fees and charges abolished and the imposition of irrational fees prevented.
To make spending more efficient, the government should reconsider investment projects using state budget funds, the deputies said. Ineffective projects need to be discontinued and new ones set up that are practical, feasible and sustainable.
The National Assembly also asked the government to consider and implement tax exemptions and reductions for businesses facing great difficulties in their operation, particularly small-and medium-sized enterprises.