The National Assembly's deputies approved six law bills after spending the whole Tuesday for thorough deliberation.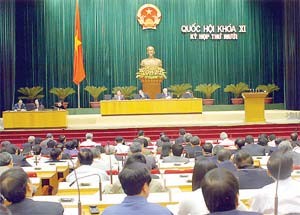 National Assmebly deputies work in Ha Noi on Tuesday (Photo: SGGP)
The new laws, which will take effect July 1, 2007, are the revised Labour Code, Law on Vietnamese Laborers Working Abroad under Contracts, Law on Gender Equality, Law on Donation, Removal and Transplant of Human Body Parts, Law on Physical Training and Sports and Law on Vocational Training.
The revised Labour Code focuses on regulations of labor disputes, strikes and strike settlements. The code rules that in the case of an illegal strike, the strikers have to compensate for losses, if any, caused to the employer.
The Law on Vietnamese Laborers Working Abroad under Contracts regulates issues related to labor export such as the conditions and procedures that enterprises need to follow to send workers abroad, commissions, deposited money, forms of working abroad, settlement of disputes and sanctions for violations.
Regarding the deposited money, the law rules that it must be returned to the laborers plus interest when their labor contract finishes. If the workers breach the contract, the deposit will be used to protect job placement companies' interest.

The ongoing National Assembly sitting is the final of the year. On November 24, 25 and 27, six ministers will go under Q&A sessions to answer questions from the legislators. Prime Minister Nguyen Tan Dung is due to go under Q&A on November 27.